Lush Cosmetics' Valentine's Day ads feature same-sex couples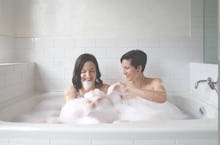 With Valentine's Day mere weeks away, you can expect that plenty of brands will come out with some lovey-dovey ads with one man and one woman cuddling and canoodling on a couch or on the beach, staring into the sunset. 
Thankfully, Lush Cosmetics has stepped up to intervene in this time of year where the only couples we see in advertisements are hetersosexual ones. For its Valentine's Day ads, Lush has released images of same-sex couples using their bath products. 
In the two images released so far, there's a couple with two women: 
And a couple with two men: 
"At Lush we believe that love transcends gender," Brandi Halls, director of brand communications, said in a statement to Mic. "We set out to do one thing when creating our Valentine's Day visuals: We wanted to capture love between two people and we believe that's what we have done here. The fact that our loyal and loving fans are starting their own conversations using our visuals and #loveislove absolutely warms our hearts."
Over on Twitter, the ads, which are on Lush's website and social media accounts, have been a hit, with many remarking on how refreshing it is to see images like these this time of year. 
Prior to these ads, Lush had released a "Gay is OK" soap that ended up raising hundreds of thousands of dollars for LGBT equality groups.