Trump Tax Returns: Is it illegal for President Trump to forego releasing his taxes?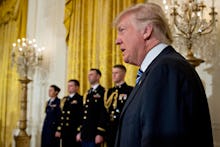 President Donald Trump has still not released his tax returns, breaking a 40-year presidential tradition that first began with President Richard Nixon. And judging by recent comments from his administration, it's safe to assume that they won't be released anytime soon.
"The White House response is that [Trump's] not going to release his tax returns," senior aide Kellyanne Conway said on Sunday in an appearance on ABC. "We litigated this all through the election. People didn't care."
This, of course, is a lie: A Washington Post/ABC poll released on Jan. 16 revealed 74% of Americans think Trump should release his tax returns, including 49% of his own supporters. A separate poll conducted by the Pew Research Center said 60% of Americans believed he should release his returns. A petition on the White House website calling for Trump to release his tax returns has received over 260,000 signatures so far.
So what will happen if Trump, as expected, does not release his tax returns? Legally, nothing. Though presidents and most presidential candidates have chosen to release their tax returns for the sake of financial transparency, there is no legal obligation to do so.
In fact, the possibility of legal recourse against Trump is more likely if he does release his tax returns. In addition to revealing information like Trump's annual income and whether or not he has paid income taxes, Trump's tax returns, many speculate, could reveal financial ties to Russia or other countries. Such revelations could prove he is in violation of the Constitution's Emoluments Clause, which prohibits government officials from accepting gifts or money from foreign governments. Should there be proof of any financial collusion with Russia, given their alleged involvement in getting Trump elected, the president could also potentially be found guilty of giving "aid and comfort" to an enemy of the United States — also known as treason.
Legally, any public release of Trump's tax returns would have to be approved by Trump himself, as federal law prohibits the disclosure of a person's tax returns or return information without their consent. 
So what can be done? Now that Trump is president, there isn't much — unless Trump decides to take advantage of Alec Baldwin's offer to stop portraying him on Saturday Night Live if he releases the returns.
But legislators at both the national and state levels are working to complicate matters for future candidates who decide to withhold their returns — not to mention Trump's potential 2020 re-election campaign.
In May 2016, Sen. Ron Wyden (D-Ore.) introduced the Presidential Tax Transparency Act, a bill that would require presidential candidates to release their most recent three years of tax returns within 15 days of being chosen as their party's nominee. In state legislatures, bills have been proposed in New York, California, Hawaii, Massachusetts, New Mexico and the District of Columbia that require presidential candidates to submit their tax returns in order to appear on the state ballot. 
"It's a reasonable step," Hawaii state Rep. Chris Lee told ABC News about the legislation, "since every modern president has released their tax returns and put their assets into a blind trust to make sure the only interest they have is the interest of our country and its people. I think we're in a very dangerous climate in which that could change."
For this state legislation to have a demonstrable impact on an election, it would have to be taken up in battleground states where a candidate has the most to lose by not appearing on the ballot. But having the legislation pass in any state would be a step in the right direction.
"If even one or two states take action," Lee said, "it changes the game."