Ed Sheeran "Castle on the Hill" Music Video: A nostalgic look at Sheeran's past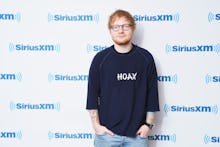 This year kicked off in a big way for Ed Sheeran with not one but two new singles. 
"Shape of You" and "Castle on the Hill" were both released to celebrate Sheeran's big return after almost three years away. Now we have a music video for "Castle on the Hill", which is off his upcoming album Divide.
Sheeran takes a trip down memory lane in his new video, and returns to his hometown of Framlingham in Suffolk, England. In the George Belfield directed video that was released on Monday, Sheeran remembers his carefree teenage years.
The video stars a younger looking Sheeran going through the memories of a simpler time with his friends: The friends hang out, they go to bars and clubs, encounter their first loves and do all the fun stuff of being a teenager without the worries of adult life. 
Sheeran tweeted the music video on Monday and noted that the kids in the video for the song are actually from the high school he attended as a teenager.
Sheeran's comeback singles have done well for him so far. "Shape of You" debuted at No. 1 on the Billboard Hot 100, while "Castle on the Hill" came in at No. 6. The songs have also been helping Sheeran break records. Both of his new tracks debuted in the top 10 at the same time, which makes Sheeran the first artist ever to do so in Billboard's history. 
Divide will be released on March 3.