Oscars 2017: For the first time ever, a single acting category features 3 black nominees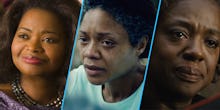 As Cheryl Boone Isaacs and her cadre of actors announced the Oscar nominations Tuesday morning, three women quietly but powerfully broke through one hell of a glass ceiling.
For the first time in Oscar history, three nominees in a single category are black. Viola Davis for Fences, Naomie Harris for Moonlight and Octavia Spencer for Hidden Figures are all up for the best supporting actress prize at the 89th annual Academy Awards.
This is not the first time a single category has boasted three supporting actress nominees of color. That honor goes to 2007's race, which included winner Jennifer Hudson (Dreamgirls) and Babel nominees Adriana Barraza and Rinko Kikuchi. (The record in supporting actor was set in 2004, with three nominees of color.)
2017's lineup is particularly remarkable for its place in history. Keep in mind that the last two years boasted a grand total of zero black nominees — zero performers of color, for that matter — in any acting category. This represents a drastic turnaround, one that may not fix the problem but is glorious regardless.
Davis is the safe bet to win the category after two previous nominations, while former winner Spencer and first-time nominee Harris could very easily return for future nominations. This record-breaking feat is a big win, but it's not the end. It's a sign that we'll hopefully be seeing a great deal more of these actors.