West Virginia just joined the growing list of states with only one abortion provider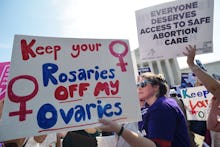 Last week, West Virginia became the latest U.S. state with only a single abortion provider when the Kanawha Surgicenter in Charleston closed its doors on Tuesday. Now the Women's Health Center, on Charleston's West Side, is the only abortion clinic left in the entire state, according to the Charleston Gazette-Mail.
The closure of one of only two abortion providers in the state only makes it more difficult for people to access safe abortions, explained one abortion rights advocate. "A woman in need of reproductive health care in West Virginia already faces serious obstacles, whether she is seeking obstetrical or abortion care," Margaret Chapman Pomponio, executive director of WV Free, told the Charleston Gazette-Mail. 
"Closure of Kanawha Surgicenter just exponentially increased the challenges ... No matter how one may personally feel about abortion, we should all be able to agree that women and girls deserve to be safe. Women's Health Center in Charleston is a safety net. WV Free and the women's health community calls on our elected leaders to protect what little access West Virginia women have left."
A woman who identified herself as the wife of Dr. Gorli Harish, a doctor listed on the Kanawha Surgicenter website, told the Charleston Gazette-Mail that Harish and his family had moved to California two years ago, and Harish had been flying to Charleston once a month to perform abortion procedures. She said he didn't want to continue making the monthly trip.
West Virginia is by no means the only state with just a single abortion provider. A study released this month by the Guttmacher Institute found that in 2014, there were five states with only one abortion clinic: Mississippi, Missouri, North Dakota, South Dakota and Wyoming.
According to the Courier Journal, one of the last two remaining abortion providers in Kentucky, the EMW Women's Clinic in Lexington, announced this month that it will close on Jan. 27, after being denied the necessary license to continue operating.
Rachel K. Jones, the principal researcher behind the Guttmacher data on abortion providers in each state, said in a phone call that, while she and her team "don't keep a running tally" of abortion clinics, many of the states with only a single abortion clinic have had only one for "more than a decade." "It's probably still the status quo in these states," Jones said.
So with the recent announcements of closures in West Virginia and Kentucky, that would mean there are now seven states out of 50 with only one abortion clinic — but even in states where there is more than one clinic, abortion can still be difficult to access.
"You can't focus necessarily on the number of providers," Jones said. "If there are three clinics [in a state] and they're all located in one big city, it means that women are going to have to travel long distances."