The ones who stand to lose the most if Republicans repeal Obamacare are black women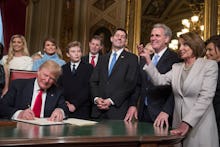 It was never a secret that the Republicans' fight to repeal the Affordable Care Act — known as Obamacare — would harm women of color disproportionately. A new study, though, suggests that gutting the ACA could be worse for black women than anybody thought.
The study, published Monday in the medical journal Cancer, found that death rates from cervical cancer in the United States are significantly higher than prior research had calculated. The gap in mortality rates between black women and white women was also wider, with black women dying at nearly twice the rate of their white counterparts.
"[These] disparities are even worse than we feared," Dr. Kathleen M. Schmeler, an associate professor of gynecologic oncology at the University of Texas M. D. Anderson Cancer Center, told the New York Times. "We have screenings that are great, but many women in America are not getting them. And now I have even more concerns going forward, with the [likely] repeal of the Affordable Care Act, which covers screening, and the closing of family planning clinics, which do much of that screening."
Previous studies had cervical cancer death rates in the US at 5.7 per 100,000 for black women and 3.2 per 100,000 for white women, the Times reports. But these figures were based on calculations that included women who'd gotten hysterectomies — an operation that almost always includes removal of the cervix.
In other words, the old death rate was being measured against a population that included women who no longer had cervixes, and thus could not get cervical cancer. The new figures exclude those women, and focus only on those at risk. The newly calculated death rate among black women is 10.1 per 100,000, and 4.7 per 100,000 for white women — nearly double what was previously believed.
Between early 2014 and late 2015, roughly 2.6 million black Americans gained health care coverage under the Affordable Care Act, former President Barack Obama's signature health care expansion initiative. As a result, the overall uninsured rate for blacks declined from 22.4% to 12.1% — the largest proportional drop of any racial demographic. The uninsured rate for women overall fell from 18.9% to 10.8% over that same period.
Yet as Republicans in Congress and President Donald Trump move closer to repealing the ACA, these gains are at risk, especially since the GOP lacks any set plan for replacing the law. 
Regular screenings offer the best chances of catching cervical cancer. If the uninsured rate rises again — as many experts expect it will — and afforable family planning clinics like those operated by Planned Parenthood are defunded — as Speaker of the House Paul Ryan intends them to be — the cervical cancer mortality gap between black women and white women has little chance of narrowing.
The stakes of the GOP's repeal efforts have never been more apparent than they are now. If Republicans fail to come up with a more affordable and accessible replacement for the health coverage they're trying to gut, the impact on black women could be disproportionately devastating.