'Tekken 7' Release Date USA: PS4, PC and Xbox console launch confirmed for June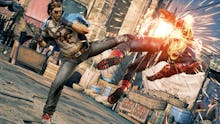 2017 is a big year for fighting games, with Marvel vs. Capcom and Injustice both making their glorious returns. If you love fighting games but hate comic books, don't worry, there's good news for you. Tekken 7's release date for home consoles is finally in sight, more than two years after its Japanese arcade launch.
Tekken 7 Release Date: PS4, PC and Xbox console launch revealed
As reported by IGN, Tekken 7 will launch for PlayStation 4, Xbox One and PC on June 2. There has been no word on whether a Nintendo Switch version of the game is in the works.
Dedicated fans will surely notice that's not entirely in keeping with the initial promise of "early 2017." In a report from IGN, game director Katsuhiro Harada told media that it was delayed slightly in order to ship with all included content:
We were trying to do everything we could to make that date happen... maybe to scale down on the content in order to make the master release, but in the end we came to the decision that [after] seeing releases from other companies, as well as some of the past of our own, where maybe things weren't working 100% at launch, or maybe it was missing some content, that's the kind of thing we wanted to avoid with 'Tekken 7,' so we made a very difficult decision of moving it to June to include all of the original content that we'd originally planned.
This can — and probably should — be seen as a response to last year's Street Fighter V, which launched at a full price of $60 without basic, promised features like its story mode. While the story mode was eventually added to the game at no additional charge, the game's reputation suffered because of its early issues. 
Tekken 7 Release Date and Pre-Order: A new character to make it worth the wait
Since you now have a few more months to pre-order Tekken 7, there's more incentive to do so in the form of a bonus character. According to IGN, fans who pre-order the game will get Eliza, a vampire who debuted in the free-to-play 2013 release Tekken Revolution. Additionally, digitally preordering the Xbox One version will get you a backwards compatible version of Tekken 6 for Xbox 360. 
PS4 owners will get legacy costumes for Xiaoyu, Kin and King, and a jukebox mode for listening to music from the Tekken series, which is not nearly as enticing as getting another full game for the free. Check out the newest trailer for Tekken 7 below.