Android Nougat Update: Samsung Galaxy S6 receives certification — here's what that means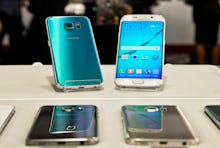 Here's the latest Android Nougat news: The Samsung Galaxy S6 is definitely receiving the Android Nougat 7.0 update, and now there's finally an indication that the rollout is well on its way for this particular device. According to Phone Arena, the standard model of the S6 has received an important certification by the Wi-Fi Alliance that will allow Android Nougat to operate on the smartphone.
(Here's a list of every phone getting the 7.0 update — including the Galaxy S7.)
What does passing the Wi-Fi Alliance certification mean? Android Authority reports the certification means the Galaxy S6 is "a step closer" to rolling out the new operating system. That said, there's still no set timeline and the rollout could still be months away.
Last week, Samsung announced which Galaxy devices are confirmed to receive the Android Nougat update and the list included the Galaxy S6. Other devices include the Galaxy S6 Edge, the Galaxy S6 Edge Plus, the Galaxy Note 5, the Galaxy Tab A with S Pen, the Galaxy Tab S2 (LTE unlock), the Galaxy A3 and the Galaxy A8.
The South Korean company has already launched Android Nougat 7.0 for the Samsung Galaxy S7 and S7 Edge.
"With the release of the update, new and improved features promise to let Galaxy users get more out of their devices," Samsung said in its announcement. "The update also enables faster speeds for downloading apps and system software updates."
More Android Nougat features: Samsung's update includes grouped notifications that support Direct Reply, multi-window support and a split-screen view that allows "access to up to seven apps at the same time." It also has a Performance Mode features that "extends battery life and enhances speed."
Here's how to download Android Nougat on your phone — and how to figure out which data deal is right for you.