Melania Trump helped design her inaugural ball gown. That's not normal.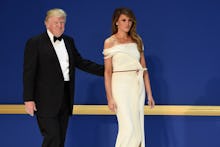 At every turn, Donald Trump's presidency has proven unprecedented. But after Inauguration Day on Friday, it's looking more and more likely that Melania Trump's stint as first lady will be as well. 
That's largely because for the inaugural balls, Melania Trump did something no other modern first lady has done: She helped design her own gown. 
Although plenty of first ladies have worn custom creations, Trump took things one step further and collaborated on the design of her cream gown with French designer Hervé Pierre. 
In an interview with Women's Wear Daily, Pierre noted that Trump came with a strong vision in terms of her own personal style, and how she wanted to display that at the balls. 
"It was fun to respect her very tailored sense of fashion and to translate it in a gown," Pierre said. "The lines are sharp, the design has no fuss and reflects Mrs. Trump's vision of fashion and the way she feels in a gown.... She knows what she likes. Our conversations were, and are, very easy. She knows about fashion, as a former model. She is aware about constructions, so we have already the same vocabulary when it comes to designing a dress." 
In addition to Pierre, another designer — Alice Roi — has spoken out about helping dress Trump on inauguration weekend. Roi designed the black coat Trump wore to the National Cathedral on Saturday and then too, Roi insisted that it was a collaboration. 
"She definitely knew what she wanted. She knows clothing well and she's very direct. She has a wonderful, chic sense of style. ... It's very guiding for the designer because you know exactly what to do to get in line with her right away," Roi said told Women's Wear Daily. "She knows what she wants even before she sees it. And it's always with really, really good taste. That makes it easy because you don't have to talk somebody out of anything." 
So what does this mean? And why does it matter that she knows so much about fashion, down to fashion construction? 
Well, it could very well hint that this won't be the last time Trump will have a hand in what she wears. She could even be intending to continue designing her own garments and gowns throughout her time a first lady. That, if true, would be unprecedented for an American first lady.
It's a theory that certainly gets bolstered by the fact that on Trump's own official page on the White House website, both the brands that hired her as a model and the magazines that featured her as a model are prominently listed. 
On Friday morning, the website even listed the brand names of Trump's jewelry lines that were sold on QVC. According to the Washington Post, that part's been deleted.
So it's beginning to seem more and more likely that through her title, Trump plans on launching something of a fashion empire. It's something the world has actually seen before, with British prime minister David Cameron's wife, Samantha Cameron, launching her own fashion line after her stint as Britain's first lady. But whether or not the American people will enjoy the idea of Melania Trump capitalizing on her opportunity is yet to be seen.