Iraqi military forces say they have retaken control of eastern Mosul from ISIS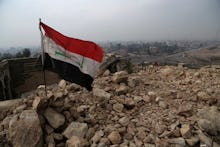 Iraqi defense forces said on Monday that they have retaken control of eastern Mosul from the Islamic State group, effectively ending the iron grip the radical faction has held on the ancient city since 2014.
According to Reuters, Iraq's defense ministry announced their reclamation of the city in a post on its website.
"The armed forces succeeded in liberating the left bank of the city of Mosul completely, after inflicting heavy losses in lives and equipment to the enemy," the statement read.
In October 2016, Iraqi Security Forces coordinated with Kurdish fighters in the region to begin an assault to reclaim the besieged city, efforts which were supported by the United States. 
The loss of control in Mosul represents the loss of ISIS's last major stronghold in Iraq.