Marco Rubio will vote for Rex Tillerson, in yet another cave to Donald Trump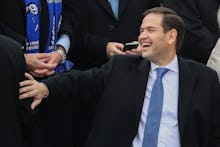 Sen. Marco Rubio, R-Fla., announced in a Facebook post on Monday that he'll vote to confirm Exxon-Mobil CEO Rex Tillerson as Donald Trump's secretary of state, caving to Trump on one of his most controversial cabinet nominees.
Rubio's decision to back Tillerson now paves the way for Tillerson's confirmation to be America's top diplomat. 
His decision also comes as a surprise.
During Tillerson's confirmation hearing, Rubio laced into the oil CEO, chastising him for not calling Russian President Vladimir Putin a "war criminal," as well as not committing to Russian sanctions.
But in a statement, Rubio said he will vote for Tillerson, despite being "concerned" that Tillerson won't give the "defense of democracy and human rights the priority they deserve."
"But in making my decision on his nomination, I must balance these concerns with his extensive experience and success in international commerce, and my belief that the president is entitled to significant deference when it comes to his choices for the cabinet," Rubio said in his Facebook post.
Rubio won re-election to his Senate seat in 2016, in part by pledging to stand up to Trump.
Democrats are already calling him out for breaking that promise in one of his first moves as a newly re-elected Senator.
"By ignoring his serious reservations about Tillerson's connections to Vladimir Putin, Marco Rubio is not only rolling over for Donald Trump, he's earning the nickname Trump gave him: Little Marco," Zac Petkanas, a senior adviser at the Democratic National Committee, said in a statement, referring to the nickname Trump bestowed upon Rubio during the GOP presidential primary. 
Rubio isn't the only Republican to back down to Trump.
Sens. John McCain and Lindsey Graham — two Republicans who criticized Trump as well as Tillerson — will both vote to confirm him as secretary of state. 
Tillerson's confirmation does not bode well for those hoping some in the GOP would stand up to the president.