Trump has admitted climate change is real — at his golf course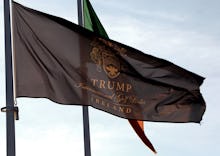 President Donald Trump's new administration caused a big fuss this weekend when a number of pages on the official White House website, including the one detailing the problems of climate change and government actions to combat the issue, disappeared. This caused a minor uproar on the internet and among progressive activists.
Though it was later revealed that this is standard practice when a new administration takes over,  Trump's own history on some of the issues, especially on climate change, was enough to worry many who care deeply about the environment.
A quick refresher: Trump has consistently said he doesn't believe climate change is a real issue.  He named a climate change doubter to be the head of the Environmental Protection Agency. And, of course, there's this famous tweet where he claims the entire thing is a hoax:
Trump believes in climate change when it threatens him personally
There was, though, one time when Donald Trump acknowledged that climate change was a clear and present danger – to his golf course.
Here's the deal. Trump owns a golf course in Ireland. He's applying with authorities on the Emerald Isle to build a seawall to protect the course. And, according to a Politico report from last year, his application specifically cites "global warming and its effects" as the threat from what his course, located on the shore of the Atlantic Ocean, needed protection.
So, there you have it. Donald Trump does want to fight back against global warming, but only to protect his links.