Watch Broadway stars sing "America the Beautiful" in response to Trump's inauguration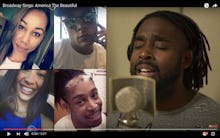 A new version of the classic patriotic song "America the Beautiful," recorded by a group of Broadway singers, was released over the weekend of President Donald Trump's inauguration.
The song, with words written by poet Katharine Lee Bates and music by church organist Samuel Augustus Ward, has long been a favorite of U.S. citizens after being performed in the early 1900s. The lyrics describe the physical beauty of the country and the belief in a higher power who "sheds his grace" on the country. 
A recently released performance of the song was recorded by Michael Korte and described as "an offering of peace and hope." The recording features Mykal Kilgore (Hair, Motown the Musical), Syndee Winters (Hamilton, Pippin), Bryan Terrell Clark (Hamilton, Motown the Musical), Remy Zaken (Spring Awakening), Andrew Chappelle (Hamilton, Mamma Mia!), Kristolyn Lloyd (Dear Evan Hansen), Gregory Haney (Hamilton, Wicked), Morgan McGhee, Shonica Gooden (Cats, Hamilton) and Andrew Keenan-Bolger (Tuck Everlasting, Newsies). 
Korte credited Meryl Streep's speech Jan. 8 at the Golden Globes as inspiration for the video, saying the words, "take our broken hearts" and "make it into art" as his "guiding light."
The video also features a collection of selfies of everyday people, which were submitted through social media to depict diversity and unity.
"As a feminist, as an activist and a member of the LGBTQ community, I have countless fears about what might unfold over the next four years," Korte said to Mic. "With that said, too many have fought to elevate minority communities in troubled times before, and I know there are too many Americans, young and old, who will not let rights and liberties be stripped away. I hope common ground can be found, I hope our differences can bring us to a place of understanding and I hope that this ignites a fire to push more 'woke' young folk to the polls and to the protest lines."
"I want it to be 3 minutes and 7 seconds of light," he also said of the recording. "Our video paints the reality of America — many colors, many creeds, forever hopeful that America's best days are yet to come." 
Filmed by Baxter Stapleton, the song's track was an original production from Vincent Mentry. 
Korte's video was not the only political work of art over the weekend. "Concert for America: Stand Up! Sing Out!" featuring Broadway stars like Chita Rivera, Kelli O'Hara, Brian Stokes Mitchell, Betty Buckley, Jessie Mueller and Billy Porter, was held Jan. 20 in New York. Proceeds from the concert will go to humans rights organizations.