Oscars 2017: Dev Patel just became the third Indian acting nominee ever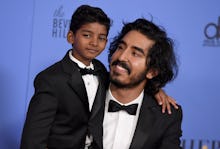 Tuesday morning was a particularly record-heavy moment for the Oscars — for Viola Davis especially — and the supporting actor race was no exception.
With his nomination for Lion, star Dev Patel became just the third actor of Indian descent ever nominated for an Oscar — and only the 13th Asian actor to receive a nod, too. He is the first Indian acting nominee in 13 years, since Ben Kingsley was nominated in 2004 for House of Sand and Fog.
Prior to Kingsley, who has racked up four nominations since 1982 for his acting work, the only other Oscar nominee of Indian descent was The Dark Angel star Merle Oberon, and that was back in 1935. Oberon spent much of her life shrouding her racial background and parentage, but was Desi and half Sri Lankan.
Patel is no stranger to the Oscars, having been in attendance to watch his film Slumdog Millionaire sweep the awards in 2009. He was not nominated, however, making this a meaningful trip back eight years later.
He's got stiff competition, what with Mahershala Ali for Moonlight up against him as a possible nominee, but the major nomination is an honor all its own.