Sean Spicer's most disturbing alternative fact: Dippin' Dots is not the ice cream of the future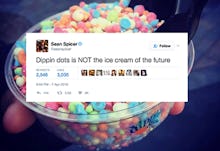 Since his briefing on Saturday, you may now know that White House press secretary Sean Spicer has a distaste for the media. But even before he denounced the press, saying that the "American people deserve better," Spicer has been besmirching Dippin' Dots, a cryogenically frozen ice cream product that is served in bead form. 
Random? Yes. Absolutely delicious? Even more so.
A look back at the press secretary's Twitter account reveals his efforts to destroy the reputation of the teeny frozen carnival classic. 
In April 2010, Spicer rebutted Dippin' Dots slogan:
More than a year later, in September, 2011, he repeated the message:
A month after that, Spicer made sure his Twitter followers were aware of the company's poor financial standings:
Three years after that — guess Dippin' Dots was able to survive despite Spicer's crusade — the press secretary complained that the Dippin' Dots vendor at the Nationals game he was presumably attending ran out of vanilla.
A close read of this cryptic tweet suggests that Spicer probably tried to order vanilla Dippin' Dots at the game, only to be turned down and likely offered another flavor. (FWIW: the Cookies 'N Cream flavor is top notch — I enjoyed it myself this past fall from a standalone vending machine placed outside of a Home Goods.) 
Alternatively, Spicer could have been berating a Dippin' Dots seller, demanding information about all of the flavors being offered at the Nationals game, intending to tweet about the company's failures. 
After conducting a brief poll around my office, it appears that the majority of my colleagues surveyed happen to agree with Spicer — that Dippin' Dots are not the ice cream of the future, but instead they say a lot about what we imagined the future would look like back in the '90s. 
In this case, then, it's possible that Spicer's position is a first-pick fact rather than an alternative one.
On Monday, Dippin' Dots CEO Scott Fischer published a statement in which he defends the company's sales while offering an olive branch to Spicer. "We can even afford to treat the White House and press corps to an ice cream social," Fischer wrote. "What do you say? We'll make sure there's plenty of all your favorite flavors." Only time will tell if he'll take the bait — but really, who in their right mind would turn down a free ice cream party?
Jan. 21, 2017, 2:44 p.m.: This story has been updated.