The 'Star Wars: Episode 8' title was revealed, and it's somewhat foreboding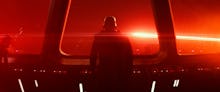 While there's very little that Star Wars fans know about the next film in the new trilogy, we have our first glimpse of what the tone may be with its official title. As Star Wars' official website revealed Monday, the Rian Johnson-directed film will be called Star Wars: The Last Jedi. 
What's noteworthy here is the use of a red font as opposed to the traditional yellow for the title. This — along with the somewhat foreboding name of the name, "The Last Jedi" — seems to fall in line with what those working on the new film have preached. This is going to be a darker Star Wars movie, akin to The Empire Strikes Back. But, also, not that dark? 
"It's similar to how The Empire Strikes Back has a different tone," actor Adam Driver, who plays Kylo Ren, told Collider in September. "For that people always go 'Oooh, it's dark' but I don't know that it necessarily is. It's just different in tone in a way that I think is great and necessary but also very clear. [Johnson] trusts [that] his audience is ready for nuance and ambiguity." 
The news also officially silences the rumors that Episode VIII was going to called Star Wars: Forces of Destiny, after Lucasfilm trademarked the name. Now, it's more likely "Forces of Destiny" is another Star Wars property being developed (perhaps a new video game?). 
The early reaction from fans on Twitter comes back to the same point: Fans cannot wait to see The Last Jedi. 
Star Wars: The Last Jedi is slated to arrive in theaters Dec. 15, 2017.