Joshua Kushner: Meet the brother of Trump's son-in-law and adviser, Jared Kushner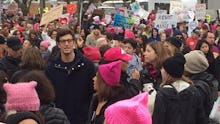 Joshua Kushner, the brother of senior White House adviser Jared Kushner, was spotted Saturday at the Women's March on Washington.
Kushner, whose brother is married to Ivanka Trump, said he was there "observing" the march, according to the Washingtonian. Kushner was at the White House the following day to watch his brother be sworn in. 
Joshua Kushner, a tech investor and co-founder of the insurance company Oscar Health, is a lifelong Democrat who did not plan to vote for Donald Trump in November, according to a report in Esquire. 
Joshua Kushner has donated to Democrats
In a blog post after the election, Joshua Kushner and Oscar co-founder Mario Schlosser wrote that the Affordable Care Act had helped get the company off the ground and that they believed it would lead to a "focus on consumers" in the health care marketplace.
"While the ACA has significant flaws, we believe the majority of this pain is a result of the pre-existing faults of our health care system," Schlosser and Kushner wrote. The company could be hurt if Trump and the Republicans repeal the Affordable Care Act.
Kushner, who is said to keep a low profile, has also retweeted a message about gun control from former President Barack Obama. 
His girlfriend, model Karlie Kloss, implied in an Instagram post that she voted for Hillary Clinton.
Kushner, 31, has donated about $100,000 to Democratic candidates and causes, and donated directly to the Democratic Party between 1999 and 2014. He is reportedly a registered independent.
Joshua Kushner will apparently control some of Jared's assets
Joshua Kushner, a Harvard Business School graduate who started the real estate tech company Cadre with his brother, is reportedly taking on some of Jared Kushner's business interests. 
Jared Kushner announced earlier this month that he would be divesting from his assets and resigning from his executive positions as he enters his influential role in the Trump administration. Some of those assets, including the New York Observer, will be sold to a family trust, according to CNN. Other assets will be purchased by Joshua Kushner, who was an early investor in Instagram and founder of the private equity firm Thrive Capital.
On Sunday, the day after being spotted at the Women's March on Washington, Joshua Kushner posted an Instagram photo of he and his brother at the White House, standing before a portrait of John F. Kennedy.