Model Hanne Gaby Odiele reveals that she is intersex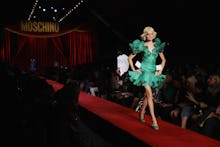 Belgian model Hanne Gaby Odiele, who's walked in runway shows for Alexander Wang, Versace and Moschino and even appeared on the cover of Marie Claire Italy, has revealed that she is intersex. 
"It is very important to me in my life right now to break the taboo," Odiele told USA Today. "At this point, in this day and age, it should be perfectly alright to talk about this."
What that means is that Odiele was born with sex characteristics (such as genitals or chromosomes) that don't fit the standard definitions of male or female. According to the United Nations, 1.7% of the world's population is born with intersex traits, and Odiele is one of the very first people in the public eye to really speak out on it. 
In the exclusive interview with USA Today, Odiele revealed she's speaking up about this now because she wants to shine a light on the medical procedures some intersex children undergo without their consent, usually intended to make the child's genitals appear more male or female. 
"I am proud to be intersex, but very angry that these surgeries are still happening," Odiele said. 
And according to Odiele, she experienced some of the procedures herself. She had her undescended testes removed when she was 10 and underwent vaginal reconstruction surgery at age 18, which she said was traumatic as well. 
"It's not that big of a deal being intersex," Odiele said. "If they were just honest from the beginning ... It became a trauma because of what they did."
In coming out now, Odiele said she hopes to lift the veil of what it really means (and looks like) to be intersex, much like how transgender models have spoken out in the past few years. Odiele is just 29 years old and her profile is only rising, with an apperance in the latest issue of Vogue to boot, so by coming out now she's paving the way for people like her to know that not only is it perfectly fine to be intersex, but it won't necessarily hinder aspirations, either. 
Mic has reached out to Odiele for further comment.