Will I lose my health care if Obamacare is repealed? Here's what we know.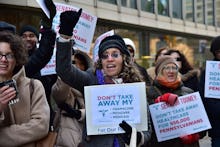 With President Donald Trump now in the White House, how the country will fare over the next four years remains to be seen. But one thing is clear: The Affordable Care Act is in trouble.
Known more colloquially as Obamacare, the ACA has been in the Republican-controlled Congress's crosshairs since it was enacted in 2010. But with Trump now in office, there is increased momentum to scrap former President Barack Obama's signature legislative achievement. Both the House of Representatives and the Senate have approved budgetary measures that would significantly dismantle the existing legislation, but so far, it is unclear what Congress's proposed replacement will look like.
Though the ACA will undoubtedly look extremely different when the Republicans' changes are enacted, it's important to note that the law is unlikely to be repealed in its entirety. With a slim majority of just 52 seats, Senate Republicans don't have the necessary 60 votes that they would need in order to combat a filibuster and fully repeal the law. 
Instead, Republican lawmakers are seeking to dismantle Obamacare's provisions through a reconciliation bill, which can pass with a simple majority and is not subject to a filibuster. A reconciliation bill, however, is limited in its scope, and can only be used for budgetary matters of federal spending, revenues and debt limit.
Assuming that Congress will soon dismantle the bill using this reconciliation tactic, what should those currently on ACA plans expect? While that depends on what the proposed ACA replacement will be. Here's what we know so far:
ACA plans in 2017
Though it's likely the ACA will be significantly weakened at some point in 2017, those with existing plans shouldn't be affected, as the insurers' rates are already set in place for this year.
In a Forbes post, Stride Health CEO Noah Lang said:
When you sign up for health insurance — even through the federal or a state-run exchange — you actually sign a contract with a private insurance company. The plans themselves are not administered by government entities. Your insurer is bound to that agreement, so your health coverage isn't going anywhere in 2017.
Former U.S. Health and Human Services Department Secretary Sylvia Burwell reiterated this 2017 security in a December interview with CNBC. 
"The coverage people sign up for today is a contract for 2017," Burwell emphasized.
2018 and beyond
Beyond that, however, things look a bit murkier. The Congressional Budget Office released a study on Jan. 17 that explored the effects of dismantling Obamacare. The study worked on the premise that Congress would instead enact a reconciliation bill that Republicans legislators passed in early 2016, but was subsequently vetoed by Obama. 
It's expected that any future legislation would likely resemble the existing bill, which included such changes as stopping the Medicaid expansion currently permitted by the ACA and ending the tax penalty on those who don't purchase health insurance.
The study found that if the plan were enacted, the number of uninsured Americans would increase by 18 million in the first plan year after the bill takes effect. After the Medicaid expansion repeal takes effect (two years after the bill's passage), that number would increase to 27 million Americans. By 2026, the number of uninsured Americans would increase by 32 million.
Enrollment in any insurance plans would decrease, the study noted, because Americans would no longer be required to purchase health insurance in the first place, as the ACA mandates. The study predicts that premiums for health insurance plans will increase by 20% to 25% in the first year, 50% following the Medicaid expansion repeal, and fully double by 2026 — meaning many Americans will go uninsured simply because they can no longer afford the higher costs. The Medicaid expansion repeal will also mean many Americans who are currently on Medicaid will no longer qualify for their existing plan.
Of course, these numbers will likely change based on whatever replacement is ultimately enacted. The 2016 bill that the CBO study used, for instance, kept the existing provision that insurers could no longer deny coverage based on pre-existing conditions. During the Senate's recent health care budgetary votes, however, Republican lawmakers struck down a proposed amendment that would ensure people with pre-existing conditions had access to health care.
Another study, conducted by the Kaiser Family Foundation, found that 52 million Americans under the age of 65 — 27% of all Americans in that age group — have a pre-existing condition that could prevent them from being insured, should that aspect of the ACA be repealed.
So if the ACA gets repealed — or rather, significantly dismantled — Americans who have health care under the ACA shouldn't expect to lose their health care the next day. But beyond that, the future doesn't look too bright.