Chrisette Michele defends decision to sing Trump's inauguration in "No Political Genius"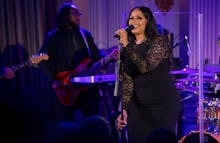 Save for the rare case when a pop star decides to perform for a foreign dictator or oppressive regime, it's rare for a gig to cause as much controversy as President Donald Trump's inauguration has the past two months. 
Several announced artists were hit with massive blow-backs from fans and activists: Jennifer Holliday dropped out and apologized to her LGBTQ fans; the B-Street Band apologized to Bruce Springsteen for previously agreeing to play his music for a demagogue. 
However, Chrisette Michele weathered the storm, despite seeing her music cut from Spike Lee's upcoming Netflix series She's Gotta Have It and feeling pressure from previous collaborator Questlove. She performed at the Liberty Ball without incident and Monday, she decided to stand up and explain her decision in a new spoken word rap, "No Political Genius," the title track of a larger forthcoming project.
"I am the black song Spike Lee won't sing/ I am the black voice inauguration bells ring," she raps defending her decision, saying the hateful words she received "will be my ammunition to fight the system." The lyrics continue:
This is my standing
It's a far more thought-provoking defense than Michele's first attempt to explain her decision in a Twitter-shared blog post written in periwinkle font. Its vague poetry and alleged misused Martin Luther King quote was met with wide ridicule across the web, with some users attempting to school her on how to properly pay homage to the civil rights leader's words.
Michele's song still leaves many questions unanswered. Her revolutionary "fight the system" lines stand out as especially vague when considered with past statements, including Michele's July Twitter message where the title "No Political Genius" originally comes from, where she criticized black protest as being a vestige of earlier movements and inappropriate in a seemingly post-racial world. 
How does Michele suggest black people unite with the members of the Trump-supporting alt-right movement, many of whom believe black people are biologically less than? What specific aspects of "the system" are broken, and how should the concerned masses look to draw attention to them?
They'll be questions Michele will have to answer on the forthcoming full-length project, which has no release date as of yet. Listen to the full "No Political Genius" track via AudioMack here.