Mexico City Abortion Rules: What reinstating this policy means for reproductive health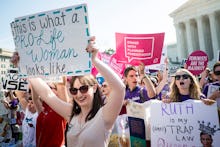 Two days after massive protests led by women across the world, President Donald Trump signed Monday an executive order that reinstates the so-called "global gag rule," also known as the Mexico City policy, which could pose limitations to reproductive rights. 
Sen. Jeanne Shaheen (D-N.H.) said in a press release that the Mexico City policy "bans federal funds for nongovernmental organizations that provide abortion services or provide information about abortion as part of family planning services." She added that the policy forces "clinics to choose between providing limited reproductive health services while accepting U.S. funds or providing comprehensive family planning and reproductive health care with a limited budget."  
The Mexico City policy was signed into law by then-President Ronald Reagan in 1985, who authorized the United States Agency for International Development to withhold USAID funds from nongovernmental organizations that use non-USAID funds to participate in activities such as advice, counseling or information regarding abortion, or if they lobby a foreign government to make abortion legal or available. 
The policy has been intermittent, with Republican administrations adopting it or Democratic administrations rejecting it. The Mexico City policy remained active until 1993, when it was rescinded by President Bill Clinton. In January 2001, it was reinstituted by then-President George W. Bush and rescinded in January 2009 by President Barack Obama. Today, Trump reinstated the policy.
Organizations such as PAI underscore the harm the Mexico City policy would inflict on women's reproductive health in the U.S. and abroad:
Trump's global gag rule will not only severely restrict access to legal abortion, but will also have more insidious and damaging effects on women's health overall. Health care providers will be forced to cut services, increase fees and even close clinics altogether as a result of severe funding cuts. There are 225 million women in developing countries who want to avoid pregnancy but are not using modern contraception, but this policy will put birth control even farther from their reach.
Suzanne Ehlers, PAI's president and CEO, added the following statement:
Trump's global gag rule will obstruct and destroy the work of health care providers who are often women's main — and sometimes only — source for reproductive health care, and their entry point for receiving a wide range of primary health care services. ... To be clear, this policy is an attack on women's bodily autonomy and freedom, and we will see an increase in unintended pregnancies and unsafe abortions as a result.
Shaheen, who is the only female member of the U.S. Senate Committee on Foreign Relations, stated that she will introduce bipartisan legislation in the Senate on Tuesday, which could repeal the Mexico City policy.