Indiana state senator Jack E. Sandlin deleted a Facebook post mocking "fat women" at Women's March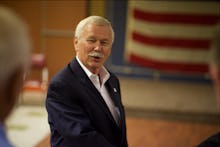 Indiana state Senator Jack E. Sandlin found himself in hot water on Sunday after he shared and then deleted a post on his Facebook page that mocked women who attended the Women's March, WXIN reported. 
"In one day, Trump got more fat women out walking than Michelle Obama did in eight years," the meme read. Though Sandlin has since deleted the photo, the screenshots live on. 
The post came from a conservative meme-sharing page called Mike's Corner, which is full of misogynist memes mocking women's rights as well as female celebrities who endorsed the march.
After Sandlin removed the posts from his page, he issued apologies — which he then removed, as well. 
His apology read, captured by WXIN, read: 
Apparently there is an offensive post on Facebook that's attributed to me about women in Washington marching. Not sure how that ended up on my Facebook wall but that certainly does not reflect my opinion of women. People who know me will know that's not my view.
Sandlin also provided the station with a statement about the post:
Yesterday, an offensive message related to the Women's March on Washington appeared on my Facebook page. It's unclear to me how this ended up on my page, but I have removed it. This message in no way represents my views toward women, and I sincerely apologize to anyone who may have seen it.
Regardless of how the post ended up on his page, Sandlin could be in the company of other figures who have faced swift backlash after their social media posts caught widespread attention. One hopeful Louisiana lawmaker drew criticism when people found a public Facebook post from his past stating that he wouldn't patronize businesses that employ Muslims. And a West Virginia government official found herself out of a job after calling Michelle Obama an "ape in heels" on her Facebook.