'Diablo 3' Necromancer Release Date News: Blizzard hosting live Q&A this week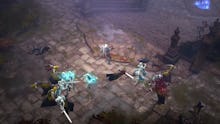 Diablo 3 players have been enjoying the game's recent anniversary patch, but the burning question on everyone's mind is still, "Where is the Necromancer?" We don't have a release date for the new playable class yet, but we should be getting more info very soon.
The resurrected (get it?) class from Diablo 2 was announced all the way back in November 2016 at BlizzCon, but there's been no news about a release date other than the vague promise of "sometime in 2017." There's no guarantee that the release date will be revealed anytime soon, but if you want to know more about the Necromancer, Blizzard is throwing you a bone later this week.
Update: Blizzard didn't actually reveal the Diablo 3 Necromancer release date at its Q&A event, but we did learn some new details. You can find all that information here.
Diablo 3 Necromancer Release Date News: How to watch the live Q&A
At 8:00 p.m. Eastern on Thursday, Jan. 26, Blizzard will host a live Q&A session regarding the upcoming Necromancer class on Facebook. You can already go to the page right here and send in questions to be answered ahead of time. 
It's possible Blizzard will reveal the release date for "Rise of the Necromancer," but one would think the company would do it in a more formal fashion than during a live Facebook Q&A. Even if the release date isn't announced, you can expect to hear more about how the class differs from both its Diablo II counterpart and the Witch Doctor, Diablo 3's other minion-happy class. 
Perhaps we'll even get a look at the Necromancer's legendary armor set or how its abilities ramp up over time. Tune in this Thursday to find out.
Jan. 27, 2017, 11:10 a.m.:  This story has been updated.
More gaming news and update
To find out what else is happening in the world of gaming, check out our coverage of Super Mario Run's Android release, genders in Pokémon Go, the next League of Legends patch and how to play Injustice 2 early.