Judge blocks Humana merger, says Aetna dropped out of Obamacare to skirt antitrust rules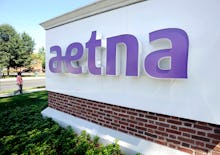 A federal judge blocked a proposed merger between health care giants Aetna and Humana on Monday, citing the merger's violation of antitrust laws, the Wall Street Journal reported.
District Judge John D. Bates also alleged that Aetna withdrew from Affordable Care Act exchanges last summer to "avoid antitrust scrutiny."
Aetna, the country's third-largest health insurer, withdrew from roughly two-thirds of online ACA healthcare exchanges last August, citing financial losses.
The move left many Americans with just one insurance provider in many Obamacare exchanges, contributing to rising health care costs: Alabama, Alaska, Arizona, Oklahoma, South Carolina and Wyoming are among the states with just one provider under the ACA.
"We're reviewing the opinion now and giving serious consideration to an appeal after putting forward a compelling case," said Aetna spokesman T.J. Crawford, according to the Journal report.
At the time, officials in former President Barack Obama's administration said Aetna was withdrawing from the exchanges in retaliation for the antitrust lawsuit between Aetna and Humana, the New York Times reported.
Sign up for The Payoff — your weekly crash course on how to live your best financial life.