'The Bachelor' 2017: Who did Nick send home in episode 4?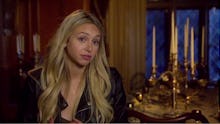 Welcome back, Bachelor fans, to Nick Viall's journey to find love. Through dolphin suits, mid-air pukes and weird wedding photo shoots, we've made it to episode four. That's one episode for every time Nick has been cast on this godforsaken show! Monday's most pressing question is this: How long can Corinne, adult nanny-haver and emerging villain, stick around?
Despite stirring up controversy for simply having a sex drive, Corinne scores a rose from Nick. Meanwhile, Christen and Brittany aren't so lucky. After the rose ceremony, Nick takes the women to his hometown of Waukesha, Wisconsin, where not so shockingly, drama involving Corinne only intensifies.
The episode picks up where we left off last week at the Bachelor pool party, site of the infamous bounce house hook-up between Nick and Corinne. While Corinne takes her 97th nap of the day, the rest of the women are freaking out. Why does Corinne think it's OK to straddle Nick inside an inflatable structure meant for wholesome jumping fun? 
The only person making any sense is Astrid, who's received 0.7 seconds of screen time this season. "He likes her! That's why we're all intimidated," she points out. 
Where's Nick through all this? Getting grilled by Vanessa, who's not sure the Bachelor himself is here for the right reasons. "I'm not judging Corinne — I'm judging your actions," she tells him. Nick does what Nick does best: rests the side of his head on his fist and produces vaguely coherent grunting sounds. Is it just us, or does Nick seem bored with the Bachelor franchise?
Inside the house, Taylor and Sarah ambush Corinne and accuse her of being entitled. "I'm not privileged in any way, shape or form," Corinne, a full-grown adult with a nanny, replies. 
At the rose ceremony, the women aren't just anxious about getting picked; they're also anxious to see whether Nick gives a rose to Corinne, besmircher of bounce houses. To the rest of the women's shock and dismay, Corinne gets a rose — and Christen and Brittany go home.
Then, a wacky, brilliant, only-on-reality-TV thing happens: As the remaining contestants raise a glass to finding love, Corinne makes a speech. But get this — it's all an act.
"Guys, hi!" she squeals, intentionally playing up the sugary sweetness. "I just feel like we're all so privileged and honored to be here for you, and I feel like we should just take every day as just, great. Don't let a moment go by where you feel like you're not going to be yourself. This is an amazing opportunity to find love, and I feel like we all deserve it, so cheers to that!"
Genius, terrifying or both? You be the judge.
Pack your bags, folks, because it's time for the first leg of our journey 'round the world: Waukesha, Wisconsin, hometown of Nick and his 47 siblings. Before the ladies arrive, Nick meets his long-suffering parents at a local coffee shop. Poor Chris and Mary Viall — they've been dragged onto this show three too many times. 
"We don't want to see you on this show again," Nick's dad says. "You know what I mean?" 
I know what you mean, Nick's dad.
Nick kicks things off in Waukesha with a one-on-one date with Danielle L., known by the Mic staff as "Andi Danielle" due to her physical resemblance to one former Bachelorette. "She's someone that, from the start, I had an instant physical chemistry with," Nick says.
Nick and Andi Danielle walk through the city, stopping off at a bakery to make some nightmare-fueling cookies with their own faces on them. 
What's wacky about reality TV is that anything can happen, you know?! In a super natural, totally un-staged moment, Nick and Andi Danielle run into one of Nick's ex-girlfriends, Amber. Whoa, what?! That's so embarrassing! And so un-staged! The three sit down and chat about Nick, which is a totally fun and normal thing to do when an ex-partner crashes your date.
"I like the fact that Nick's on good terms with his ex!" Andi Danielle gushes. OK, cool! 
Nick proceeds to take Andi Danielle to some wide-open field where he did sex for the first time, and then to a bar. This is the most animated I've seen Nick all season. They talk about their embarrassing first kisses and Andi Danielle's parents' divorce. She's worried about going through a divorce like her parents did — in which case, I implore her to get off a reality TV dating show. Anywho, Andi Danielle gets a rose. Duh. 
But wait — Nick has a surprise, and you'll never guess what it is! It's "up-and-coming country star" Christ Lane!
Next, it's group date time. The ladies — minus Raven, who scored the next one-on-one date — head to a dairy farm to wade through mud and milk cows. It's pretty gross. While some, like Jaimi, make the best of it, one woman in particular is completely horrified at having to do "farm chores." Guess who it is.
"Everywhere I turn, it's poop!" Corinne says. "Dude, I need sushi." Corinne would never make her nanny, Raquel, do farm chores. 
Needless to say, Corinne's bad attitude make the women dislike her even more — and at the fancy "nighttime lounge" part of the group date, they go at her. Sarah, for one, demands to know if Corinne is ready to marry a 36-year-old man. "I see a purple bouncy pink house," she says. "I don't see you meeting his maturity level."
Meanwhile, Nick has nice, romantic conversations with Vanessa, Kristina and Rachel. At the end of the date, underdog Kristina gets the rose. Only time — and copious amounts of wine — can tell whether their relationship will have time to catch up with the others.
Finally, it's time for Raven's one-on-one date. At a soccer field, they meet up with Nick's little sister, Bella. Poor Bella. She didn't ask for this. Go play outside with your friends, Bella. 
Nick leads Bella's soccer team in various warm-up activities, which obviously means he'll be a really great dad. "It makes me even that much more attracted to him," Raven says.
Then Nick's parents show up, and it's a little awkward. Nick's dad is clearly weirded out that his son's girlfriend is named "Raven." Raven asks Nick's parents if they had to spank him a lot. In summary, I'm relieved when they leave for the roller-skating arena. 
Raven and Nick roller skate and do lots of cool "moves," some of which involve kissing!
At dinner, Raven tells Nick an extremely harrowing story about walking in on her boyfriend mid-coitus with another woman.
"I know what her vagina looks like," Raven says. "He was actually on top of her, thrusting her ... my head spun around like the exorcist ... they're both butt naked. I picked up her stiletto of the ground and beat him in the head with it."
Good lord! While I'm still recovering, Nick and Raven bond because they both know what it's like to be cheated on. She gets the rose! Hurrah!
How should we finish off the episode, you ask? With more Corinne drama, obviously. After days of simmering, the tension between Corinne and Taylor boils over when Corinne drags Taylor outside for a private chat by the fire. Corinne accuses Taylor of "disgusting" behavior toward her. 
Taylor fires back by going full-on mental health counselor, telling Corinne she lacks emotional intelligence.
Corinne isn't happy — after all, she runs a multi-million-dollar company! "Don't treat me like I'm stupid, Taylor!" she cries. 
That's all for now, folks! This drama is "to be continued." Tune in next week to see who makes it out alive.
The Bachelor airs on ABC Monday at 8 p.m. Eastern.