What is the Hyde Amendment? The House could vote to make ban on federal abortion funding permanent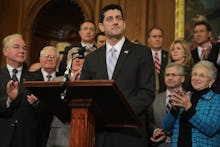 On Monday, a cohort of men gathered in the Oval Office to make some wide-ranging decisions about what women can and cannot do with their bodies. On Tuesday, politicians in the nearly 80% male House of Representatives will have an opportunity to entrench another set of restrictions on women's reproductive health. 
According to Mother Jones, the Hyde Amendment — which bars the government from funding abortion — is back on the legislative ballot. Should lawmakers vote to make the Hyde Amendment law, they will be delivering anti-abortion activists a victory they've sought for years.
What is the Hyde Amendment?
The Hyde Amendment is a rider tacked onto appropriations bills that dictates how Medicaid funds can be used. It is named for creator Henry Hyde, a Republican representative from Illinois who introduced the measure in 1976 as a means of limiting abortion access after the procedure became legal in 1973.
"I certainly would like to prevent, if I could legally, anybody having an abortion, a rich woman, a middle-class woman or a poor woman," Hyde said at the time, according to Planned Parenthood. "Unfortunately, the only vehicle available is the … Medicaid bill."
More than 40 years later, representatives are voting on the Hyde Amendment in the form of the No Taxpayer Funding and Abortion Insurance Full Disclosure Act, a bill that passed the House in both 2013 and 2015 but never passed the Senate. Proposed by New Jersey Rep. Chris Smith, H.R. 7 would ban the government from funding abortion or insurance plans that cover it. 
There are three narrow exceptions to the rule. Pregnancies conceived through rape or incest — as well as those posing a grave threat to the mother's health — can be terminated using federal money. If Smith's bill passes, the Hyde Amendment would become a permanent part of U.S. law.
The Hyde Amendment hurts the historically disenfranchised
Critics of the Hyde Amendment argue that it sends a clear message: Poor women don't matter. Wealthy women have generally been able to terminate unwanted pregnancies regardless of the procedure's legality, but the same cannot be said for poor and low-income women, who comprise the majority of abortion patients — about 75% of them, according to the Guttmacher Institute. And because women of color are more likely than white women to get their insurance through Medicaid, they are more likely to suffer if the Hyde Amendment becomes permanent law. 
Abortion opponents have long advocated for the Hyde Amendment as a means of defunding Planned Parenthood, the country's largest reproductive health care provider — and, typically, one of the Democratic Party's more prominent allies. Some Planned Parenthood centers offer abortion services, although the procedure accounts for just 3% of what the organization does. 
Further, the circumstances under which federal dollars can be used to pay for abortions are very slim — Planned Parenthood puts the lion's share of its government funding toward things like STI testing, cancer screenings, pap smears, contraception and sex education. Still, President Donald Trump promised during his campaign to make the Hyde Amendment permanent law; House Speaker Paul Ryan has been adamant that federal funding for Planned Parenthood will be among the first items on the congressional chopping block in 2017. 
But Cecile Richards, president of Planned Parenthood Federation of America and Planned Parenthood Action Fund, is equally determined that Planned Parenthood's doors will stay open. 
"What this Congress is threatening to do is to tell women where they can go to and where they can't go to for health care," Richards said in an interview with Mic at the Women's March on Washington. 
"What I'd like to say to Speaker Paul Ryan is: Women in this country should have the same right to choose their health care provider as members of the U.S. Congress do," Richards continued.
Which is to say, the right to choose the care they need regardless of race, gender or income.