Shake Shack is giving away free burgers: Here's how to get 'em — and other free grub this month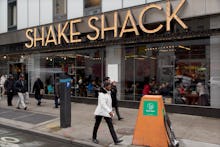 They say there's no such thing as a free lunch, but that's not always the case — particularly when a company has an app to promote.  
From Monday through Feb. 28, Shake Shack's giving away free ShackBurgers to people who download and order through the company's new app, according to a statement released by the company.
Shake Shack CEO Randy Garutti noted in the statement that the burgers would be available at "nearly all of our U.S. Shacks," with the exception of stadiums, ballparks and airports. 
To get the burger, you'll need to download the new iOS app which you can do here — and then order the burger using a special download code, "shackappy," when you check out. 
The idea is to get people used to ordering through the app, which will offer pick-up windows as a way to cut down on Shake Shack's wait times — which can be notoriously long. 
One caveat? 
You'll need an iPhone to take advantage of the promotion: A Shake Shack spokesman said in a phone interview that the Android App is still in development, and they are still deciding whether the company will offer a similar promotion once it's off the ground.
Good news, Android users: Even if you're locked out of the Shake Shack promo for now, there's still no reason why you have to go without. 
As far as giveaways go, February is a pretty stacked month. 
Money notes that both National Pizza Day and National Bagel day fall on February 9th, both of which tend to spawn freebies and giveaways at local establishments — likely including some near you.
And then of course there's Valentine's Day, a veritable treasure trove of buy-one-get-ones and other couple-oriented offerings. 
While there's certainly a case to be made that the advent of new "free stuff" holidays is getting a little out of hand, we at Mic take a more forgiving stance, especially when food's involved. 
Sign up for The Payoff — your weekly crash course on how to live your best financial life.