'Overwatch' Update: PS4, Xbox players will finally be able to report abusive players soon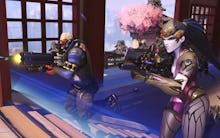 If you load up the Xbox One or PS4 version of Overwatch right now and encounter an abusive player, there's no way to report them within the game itself. Thankfully, an update to the game should set that straight soon.
The feature is already available on PC, where Overwatch players have a whole host of in-game reporting options. As a result, abusive players can be banned from team chat or suspended from playing altogether.
You can see why this might be frustrating for console players experiencing racism, homophobia, sexism or other types of abuse that run rampant online. But that disparity's about to change, according to Overwatch director Jeff Kaplan.
Overwatch Update: Console players finally getting in-game abuse reporting options soon
In a post on Blizzard's forums, Kaplan said that console players will soon finally have a way to keep their fellow Overwatch players in check, but don't expect to see it for a few more months.
"This feature is coming to both PS4 and Xbox," Kaplan said in response to a post complaining about the feature's conspicuous absence. "I don't have an exact ETA because there are many moving parts to make this happen. My hope is that everything locks into place before summer — or sooner. But we're at the mercy of things beyond our control on this one and we've been working super hard to make it happen."
It's not clear exactly why a reporting feature wasn't included on consoles from the start, but it likely has something to do with the fact that online play on consoles is facilitated by Sony on PS4 and Microsoft on Xbox One, rather than directly by Blizzard.
Overwatch players on Xbox One can already report someone's Xbox Live profile for violating Xbox's code of conduct, but PlayStation's support page notes that players cannot report others for abusive things said over voice chat. Having the ability to report players within Overwatch itself will bring both consoles more in line with PC.
Mic has reached out to Blizzard and will update with any response.
More Overwatch news, updates, tips and tricks
For more on Overwatch, check out the rest of what Mic has to offer. Here is a leaked video that seems to reveal more Year of the Rooster skins, a full explanation of the different types of health in Overwatch, the latest rumor of a Terry Crews-voiced Overwatch character, an update on that Mei ice wall exploit, a hilarious video of a play of the game involving the jump pad on Oasis, a roundup of the best Overwatch plays of the week, our definitive ranking of every Overwatch hero and a giant Overwatch FAQ for beginners.