Meet the former cancer nurse redefining "nude" with a new lingerie brand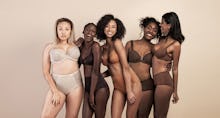 A new lingerie brand has stepped up to help enforce the idea that "nude" is not just that light pink shade you'd find on a Band-aid, nor is it the light beige shade you'd find on an Ace bandage. 
The brand beingU is the latest company providing women of color with options, offering bras and underwear in five different shades of nude, which vary from light ivory to dark brown. Band sizes range from 28 to 44, and cup sizes range from B to H. 
Though the brand is one of the more inclusive out there — not only in terms of color options, but in sizing as well — its creator, Sadia Sisay, doesn't have a background in fashion at all. In fact, prior to this venture, she was a cancer nurse. The idea for the fashion line struck her suddenly back in 2009, when she realized that her daughter couldn't find a bra close to her own skin tone. 
"Seven years ago, I was was chatting to my then-14-year-old daughter when it suddenly hit me that her lingerie was starting to reflect my lingerie drawer," Sisay, who lives in London, said in an interview. "Mostly black, as it was the best color for under her then school shirt. There and then I told her I was going to make her a bra. Here I am today having made her a bra, albeit seven years later."
The road here wasn't easy. The past seven years she's been faced with doubtful investors and family emergencies, as well as the death of her husband two years ago. But now here she is with a relaunched label and mission to, as she puts it, make sure women of color don't feel as excluded while shopping. 
"[My real mission is] to play my small part in making women particularly black women and women of color feel included in their shopping experience," Sisay said. "To feel they have been considered during the development of the products. That they are seen. We all know what it feels like when you really believe you are seen. One is full of possibilities then." 
Other than beingU, there are other companies that have capitalized on the lingerie industry's narrow definition of what nude really means. There's Nubian Skin, which offers not only bras and underwear in various shades of brown, but tights, too. There's also Naja and TruNude.  
As for why this sudden boom in attention to redefining nude has happened, Sisay blames fashion as a whole, and women becoming more and more comfortable showing skin. 
"Women in general are more comfortable in their own skin so they may not always need the lingerie to make the statement for them," Sisay said. "Clothing fashion trends also require more nude underwear being worn. This has then led to more women searching for nudes and the realization that only one shade of nude had been available. So it is a great thing that more brands have decided to change that reality and provide choices for all women." 
People interested can get on the mailing list now on beingU's website to preorder, with first shipments being sent out on Feb. 6.