When will legal pot stores open in California? Here are the key dates to know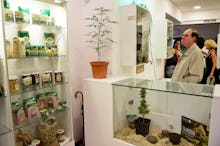 Legal pot stores still aren't open in California, although it is currently legal for individuals 21 and over to smoke, posses, and grow marijuana. So when will stores be opening? Here's what you need to know.
Legislation for recreational marijuana stores 
Individuals in the state are currently in a bit of a catch-22, as Business Insider pointed out. Californians can now legally use marijuana in private residences, carry certain amounts of the drug and grow up to six plants in their homes — but there is still no legal place to buy weed. 
The law states the California government must start giving out licenses to recreational pot shops by Jan. 1, 2018. 
Where can I get marijuana until then? 
You can grow your own weed as long as you don't exceed the number of six plants to a household. You can also have someone give you marijuana as a nice gesture, as it still isn't legal to buy it from someplace other than a licensed shop. According to Time, Amanda Reiman, the manager of marijuana law and policy for the Drug Policy Alliance, believes this might lead to a "sharing economy" in the state. 
You can also try to get medicinal marijuana, as shops are open all over the state.