Jessica Williams talks about the huge wake-up call from her mother about black womanhood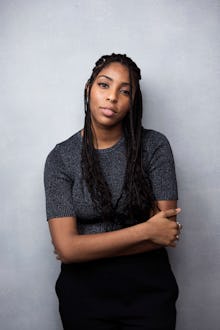 Jessica Williams is inspiring others to resist Donald Trump with some crucial advice from her own mother.
Williams, known from her work at The Daily Show, gave a powerful speech at the Women's March in Park City, Utah, on Saturday — during her break for the Sundance Film Festival — about how her mother reacted when she came home with Cs on her middle school report card.
When her mother asked why she had C, Williams gave a smart aleck response about how C is just average and average isn't bad. "Really, when you think about it, C's are average. And really is it that bad to be average?" Williams told her mother.
Her mother, upset with her daughter's response, told her to come upstairs so she can show her "fucking average." That's when Williams' mother gave her "the talk" a lot of people of color have heard from their parents about being twice as good as their white counterparts.
"She said, 'You listen to me because this is the only time we're going to have this conversation. You come from me and because you look like me —because you think like me and you talk like me and you sound like me and you have my skin — you are never allowed to be average. There are people out there who do not look like you that will get more than you have for doing average work. There are people who are the opposite of you that will actively fight to make sure you don't have s**t. So you listen to me: You never, ever walk up in my house again talking about it's OK to be average.'"
Williams' mother then confiscated her phone, and prohibited fom watching TV and using the computer as consequences for her attitude and poor grades. Her mom told her that "average black kids" wouldn't have access to all those things anyways.
The comedian used her anecdote to galavanize minorities to organize and resist the Trump administration. William said that minorities, right now, cannot afford to be just average in the face of an anti-Muslim, anti-black, anti-Latino, anti-gay, anti-indigenous and anti-woman administration.
"[I]f you are a minority today, we can all take away something from that ass whoopin' that I got from my mom because we have to fight," Williams said, according to the Root. "We can not slack because right now we have a president who is anti-Muslim, anti-Latino, anti-gay, anti-black, anti-woman, anti-Native American, and anti-natives."
You can watch her speech below: