'Overwatch' Year of the Rooster Event: What time does the Chinese New Year update start?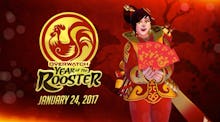 Overwatch's newest seasonal event, the Chinese New Year-themed Year of the Rooster is almost upon us. Blizzard hasn't announced exactly when the event will go live, but we know it will be sometime on Jan. 24. Luckily, past events offer some clues about when you can expect to download the new patch.
Here's what we know so far.
What time does the Overwatch event start? Year of the Rooster celebration expected soon
The last two seasonal events, Winter Wonderland and Halloween Terror, started around 2 p.m. Eastern, so it seems reasonable that Year of the Rooster will begin at around the same time.
Overwatch Year of the Rooster Skins: Which characters are getting new skins?
Once the event goes live, Mic will publish a full list of all the unlockable goodies, but thanks to some tweets from the Overwatch account and a couple of leaks, we already have a pretty good idea of what to expect.
So far, we know for sure that both Mei and D.Va are getting new skins.
Tuesday morning, a Spanish version the entire trailer seemingly leaked, confirming a new capture-the-flag-style brawl and a number of new skins.
The leaked trailer seems to confirm previous rumors, including what appears to be a leaked ad that was posted on Reddit. The ad shows Reinhardt, Zenyatta, Roadhog and Winston are getting new skins, all based on the Chinese novel Journey to the West.
There's likely a few more that have yet to be revealed (or leaked), so keep checking back for more info.
More Overwatch news, updates, tips and tricks
For more on Overwatch, check out the rest of what Mic has to offer. Here is a full explanation of the different types of health in Overwatch, the latest rumor of a Terry Crews-voiced Overwatch character, an update on that Mei ice wall exploit, a hilarious video of a play of the game involving the jump pad on Oasis, a roundup of the best Overwatch plays of the week, our definitive ranking of every Overwatch hero and a giant Overwatch FAQ for beginners.