Minnesota Gov. Mark Dayton collapses during State of the State address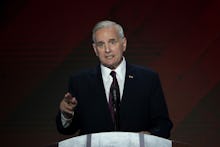 Minnesota Gov. Mark Dayton collapsed Monday while delivering his annual State of the State, the Star Tribune reported, but was "not injured; as aides caught him as he fell while standing behind a lectern in the House chambers in St. Paul."
After the incident, Dayton appeared to be "seated upright and aware shortly after the incident occurred."
Dayton, who is 69, collapsed before introducing a proposal to add a "public option" to the state's health care system, according to the St. Paul Pioneer Press. According to the Star Tribune, the focus of Dayton's speech was on a "public investment" plan that also included $371 million in increased school funding.
Dayton's son Eric tweeted "I'm with my dad now and he's doing great" shortly after the incident.
According to KMSP's Timothy Blotz, the incident may be related to a hip injury Dayton had two years ago, though House Minority Leader Melissa Hortman told him Dayton had been up all night drafting his speech.
In September, Morning Consult noted Dayton was the 13th most popular governor in the country with a 59% approval rating. Dayton, a Democrat, easily won re-election in 2014 with 50.1% of the vote, compared to 44.5% for his opponent, Republican Jeff Johnson.
This is a breaking news story and may be updated as more information becomes available.