This new GoFundMe really just wants Sean Spicer to find a better suit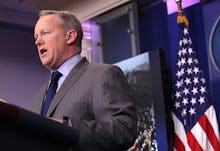 If you watched White House press secretary Sean Spicer's press briefing on Saturday, you may have noticed something a bit concerning. 
His suit, although probably expensive, was incredibly large. Just look at the gapping around his neck. Look at the shoulders of the suit extending past his own. Where suits are supposed to lay flush, his was gaping and extraordinarily oversized. 
It's something that viewers noticed almost immediately. 
Given that Spicer's boss is Donald Trump, it's really not all that surprising. Trump is someone who not only loves an extraordinarily long tie but also an impossibly oversized Brioni suit. He's even gloated about never going to the tailor himself. 
"Some people think it's best to have custom-tailored clothing," Trump wrote in his book Think Like a Billionaire. "I don't recommend it unless you have an oddly shaped body, and unless you have a great deal of time."
Clearly, Spicer saw no tailor here. 
But rather having to sit and watch Spicer slowly shrink into his suit jacket as if he were Alice in Wonderland while briefing the press, one concerned citizen has stepped up and created a GoFundMe page to fund a well-fitting suit for Spicer. 
Titled simply "Buy Sean Spicer a suit that fits," the page reads: "Sean Spicer started his new job as White House press secretary today but, clearly, he had to borrow someone else's suit. Help Sean buy a new suit that actually fits him so that he won't be so grumpy at work all the time."
In a video for the campaign, its creator, Mia Pinchoff, makes her point all the clearer. 
"I mean look at the guy," she says. "He's swimming in it. He looks like a middle schooler that wore his dad's suit to school." 
"It's like honey, we shrunk the press secretary," she continues. "You know, it really upset me and I couldn't stop thinking about it." 
Within just two days of the campaign's launch, it's raised $605. Its goal was $250. At time of writing, 61 equally concerned citizens have donated. 
Of course, the money isn't going towards buying Spicer a suit. We're positive his White House salary would cover one. The money's really going to Planned Parenthood, the women's health organization that faces a number of threats from the Trump administration. And that seems, pun intended here, pretty fitting.