Oscar Nominations 2017: Listen to every best original song nominee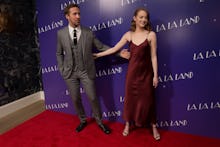 Anyone who kept up with 2016 movies likely knew that one film would absolutely find itself represented in the three music categories (best original score, best original song and best original musical) when the Academy of Motion Picture Arts and Sciences announced their full spread of nominees for the 2017 Oscars Tuesday. And lo and behold: La La Land has a major presence in the three categories. 
It has two in the best song category, alone, yet the win is still anybody's game.
Creator of the hit Broadway show Hamilton and "Love is love is love is love" sonnet reciter, Lin-Manuel Miranda, also has a nod for his Moana hit "How Far I'll Go." Somehow Justin Timberlake snuck in with "Can't Stop the Feeling," a song that was widely panned as being the worst song of 2016. But the Oscars have a different set of tastes than the music world proper. Check out the list of nominees and listen to each of the songs below.
"Audition (The Fools Who Dream)," La La Land
Music by Justin Hurwitz
Lyrics by Benj Pasek and Justin Paul
"Can't Stop the Feeling," Trolls
Music and lyrics by Justin Timberlake, Max Martin and Karl Johan Schuster
"City of Stars," La La Land
Music by Justin Hurwitz
Lyrics by Benj Pasek and Justin Paul
"The Empty Chair," Jim: The James Foley Story
Music and lyrics by J. Ralph and Sting
"How Far I'll Go," Moana
Music and lyrics by Lin-Manuel Miranda