'Supergirl' Season 2, Episode 10: What will happen? Spoilers, promo video and more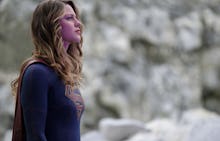 On Monday night, Supergirl returned from its winter hiatus, delivering another solid installment in the series' second season. We had not seen Kara since she traveled to Earth-1 to help Barry Allen, Oliver Queen and the rest of our favorite heroes defeat the Dominators in the CW's massive crossover event. 
The midseason premiere of Supergirl began with the Girl of Steel in a bit of a lull — she's been spending more time rescuing jewels and money from robbers than protecting people. That, of course, changed rather quickly. After a desperate mother asks Kara to help find her missing daughter, the reporter learns that Roulette (guest star Dichen Lachman) is smuggling missing persons to "Slavers Moon," a planet with a red sun — bad news for Kryptonians. 
Despite losing her powers under the red sun, Supergirl remained determined to find the abductees, even when Mon-El suggested they return to Earth for help. In the end, Supergirl prevailed with the help of her sister, who appears to finally be happy, and Mon-El. The most interesting part of the episode, though, was probably the further teases at Mon-El's big secret. We may have to wait a bit before that mystery clears up, as season two, episode 10 is going to bring back a major villain from season one. 
What's ahead
The next episode of Supergirl, titled "We Can Be Heroes," will see Kara start training Mon-El to be a hero, after he decides that he wants to use his powers for good (he also gets a sick costume). The training will likely get cut short, though, as season two, episode 10 will feature the return of Livewire. Check out the official synopsis (via Comic Book) below:
After Livewire (guest star Brit Morgan) seemingly breaks out of prison, Supergirl (Melissa Benoist) is intent on recapturing her. After training Mon-El (Chris Wood), Supergirl takes him with her when she sees Livewire attack the NCPD but things go awry when Mon-El puts Supergirl before the citizens of National City. Meanwhile, James (Mehcad Brooks) decides to come clean with Kara and M'Gann (guest star Sharon Leal), has a psychic attack and collapses into a coma.
You can watch the promo for season two, episode 10, "We Can Be Heroes," below: 
Season two, episode 10 of Supergirl will air Monday, Jan. 30 at 8 p.m. Eastern on the CW.
Mic has ongoing coverage of Supergirl. Please follow our main Supergirl hub here.