Republican lawmakers back bills that criminalize protest, then quote Martin Luther King Jr.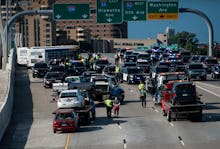 Come Martin Luther King Day, Republican legislators love to heap praise on civil rights leaders. But when it comes to actually supporting the policies these leaders stood for, the same legislators stand on the opposite side of history.
Two state GOP lawmakers quoted King in celebratory social media posts on or after his birthday this year, even as they backed legislation that would criminalize peaceful protest — quite literally the tactic King was best known for.
On Jan. 15, Minnesota State Rep. Kathy Lohmer (R-Stillwater) retweeted a post that describes King as "a true leader," someone whose "guidance" is "really [missed]."
"Everybody can be great, because anybody can serve," King's quote reads. "You don't have to have a college degree to serve. You only need a heart full of grace. A soul generated by love."
On Jan. 20, Michigan State Rep. Gary Glenn (R-Bay and Midland Counties) shared a link on his personal Facebook page to a news story about himelf. The story describes how he hosted a black female high school football player, who had been attacked in a racist Facebook post in October 2016, on a visit to the Michigan House of Representatives.
"Her example is worthy of recognition," the story quotes Glenn saying, "and I hope her being here is an encouragement that sends a strong message that the Midland community and the entire state of Michigan value, respect, and support her and all our young people 'not by the color of their skin,' as King said, 'but by the content of their character.'"
Both representatives are part of a recent wave of GOP lawmakers who are backing bills that criminalize nonviolent protest — demonstrating just how easy it has become for politicians to pay superficial tribute to King while opposing what he actually stood for.
Lohmer introduced a bill in the Minnesota House of Representatives earlier this month that would make intentionally obstructing highways a gross misdemeanor, where before it was a simple misdemeanor.
"Highways ... are not public places," Lohmer said, according to the Twin Cities Pioneer Press. "There are folks that have decided that that's a good place to protest, and I think it's a very serious public safety issue."
Glenn introduced a bill in May 2015 that would increase fines against picketing workers to $1,000 per day, per picketer. Glenn said the current penalty of $500 "has proven to be insufficient to serve as a deterrent," according to the Detroit Free Press, adding, "This just increases the penalties for already illegal activites." 
The bill passed in December.
Both pieces of legislation are responses to nonviolent protests in their respective states. In July, several Black Lives Matter protesters were arrested for blocking highway I-35W in Minneapolis. In Michigan, Glenn cited the Detroit McDonald's workers strike in November as the kind of protest that needs to be stopped.
But these laws are also part of a nationwide pattern. The Republican Party has proven increasingly hostile toward peaceful demonstrations in recent years, as protests against the police killings of black men and women have roiled the United States. 
GOP lawmakers in Louisiana passed a so-called Blue Lives Matter bill in May that grants hate crime protections to police officers. In the last few months alone, Republicans in at least five states have proposed, introduced or passed laws that further criminalized nonviolent protest, including North Dakota — site of the Dakota Access pipeline protests — Indiana and Washington state.
It's unclear what Lohmer and Glenn think King did to earn the esteem he enjoys now. But nonviolent protests were a massive part of it. One of King's most notable marches — from Selma to Montgomery, Alabama, in 1965 — included obstructing a roadway on the Edmund Pettis Bridge. In the months before he was assassinated, King joined striking sanitation workers in Memphis, who were protesting dangerous conditions at their job.
It's easy for conservative lawmakers to praise King when they frame him as a race-blind peacenik who just wanted Americans to stop paying attention to skin color. But when it comes to actually carrying on his legacy — and agitating for the same pro-worker, pro-black issues that he did — these same lawmakers often find themselves in direct opposition to King.