White actors up for 2017 Oscars are twice as wealthy as Academy Award nominees of color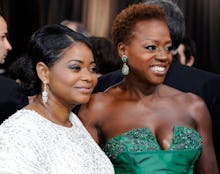 Hello, OscarsLessWhite. The 2017 Oscar nominees are more diverse than 2016's, with icons like Denzel Washington, Viola Davis and Octavia Spencer joined by four more nonwhite actors for both lead and supporting role nods.
While actors of color have increasingly gained recognition from the Academy, that hasn't necessarily translated to financial parity.
In fact, when you compare the combined net worths of white vs. nonwhite nominees for the acting awards, you'll find that white actors have more than twice as much as everyone else: $485 million vs. an estimated $211 million overall for actors of color.
And on average? Nominated actors of color are worth $30 million vs. $40 million for white actors.
If you take out Washington — a big outlier worth $190 million — the average drops to $3.5 million for nominees of color, also including Ruth Negga, Mahershala Ali, Naomie Harris and Dev Patel.
Now, of course, net worth factors in more than pay per film — which is inconsistently reported publicly — and can include endorsement deals and other sources of income. But, to get a very broad sense of how different actors are valued, Mic used the estimated net worth figures for nominated lead and supporting actors available from CelebrityNetWorth.com and TheRichest.
In general, popular actors get paid in the single digit millions for an individual film; in bigger budget films top actors and actresses can pull as much as $20 million or $30 million per movie.
It's no secret that male actors are frequently paid far more than female costars. But at least when it comes to net worth, female Oscar nominees this year were relatively on par with male nominees — with a combined net worth of $342 million v. $354 million for the men.
(We exclude the net worth of supporting actor nominee Lucas Hedges, for whom we could not find estimates.)
Of course — even if it's not reflected in the net worth figures for Oscar nominees — there are few quality roles for female actors in the first place.
Only 12% of protagonists in major 2012 films were women, according to a recent report.
"The acceptance of women as 'lesser' in Hollywood is so commonplace, it's as if we've grown comfortable living with our own ugly furniture — we don't even know it looks bad," said Janice Min, co-president and Chief Creative Officer of the Hollywood Reporter-Billboard Media Group, according to Women's Media Center.
With that in mind, here's a list of all the actors and actresses nominated for top roles for the 2017 Oscars, along with their estimated net worth.
Actor in a leading role
Casey Affleck, Manchester by the Sea
Net worth: $10 million
Andrew Garfield, Hacksaw Ridge
Net worth: $10 million
Ryan Gosling, La La Land
Net worth: $30 million
Viggo Mortensen, Captain Fantastic
Net worth: $30 million
Denzel Washington, Fences
Net worth: $190 million
Actress in a leading role
Isabelle Huppert, Elle
Net worth: $40 million
Ruth Negga, Loving
Net worth: $4 million
Natalie Portman, Jackie
Net worth: $60 million
Emma Stone, La La Land
Net worth: $18 million
Meryl Streep, Florence Foster Jenkins
Net worth: $75 million
Actor in a supporting role
Mahershala Ali, Moonlight
Net worth: $2 million
Jeff Bridges, Hell or High Water
Net worth: $70 million
Lucas Hedges, Manchester by the Sea
Net worth: n/a
Dev Patel, Lion
Net worth: $6 million
Michael Shannon, Nocturnal Animals
Net worth: $6 million
Actress in a supporting role
Viola Davis, Fences
Net worth: $3 million
Naomie Harris, Moonlight
Net worth: $4 million
Nicole Kidman, Lion
Net worth: $120 million
Octavia Spencer, Hidden Figures
Net worth: $2 million
Michelle Williams, Manchester By the Sea
Net worth: $16 million
Sign up for The Payoff — your weekly crash course on how to live your best financial life. Additionally, for all your burning money questions, check out Mic's credit, savings, career, investing and health care hubs for more information — that pays off.