The 2017 Oscar acting nominees are the most diverse lineup in a decade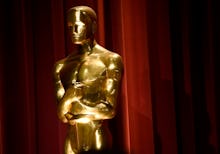 After two straight years of #OscarsSoWhite, the Academy of Motion Picture Arts and Sciences produced their most diverse lineup of acting nominees in a decade — and tied the record for their most inclusive ever.
Seven actors of color (specifically, six black actors and one Indian actor) earned nominations for the film industry's highest acting honor Tuesday morning. The number ties 2007's record of seven.
The seven nominees of color are:
Denzel Washington, Fences
Like 2007, which featured multiple nominees from movies like Dreamgirls and Babel, 2017's list was buoyed by multiple nods for movies like Fences and Moonlight. Those two, plus Lion and Hidden Figures, are best picture nominees as well.
Only four years have featured more than five nominations for actors of color in the Oscars' acting categories: 2017 and 2007, plus 2005 and 2004, with six nods each.
This was a year for record-setting and -extending at the Oscars. One of the nominees, Viola Davis, became the first black actress to win three Oscar nominations, while Dev Patel became just the third Indian actor ever to be nominated for an Oscar.
The Oscars will be held Sunday, Feb. 26 and broadcast on ABC.
Correction: January 24, 2017