New York man charged with hate crime for placing gun to Muslim cab driver's head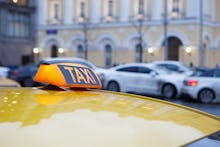 Two days after Donald Trump's inauguration, a white man threatened a Muslim cab driver at gun point in New Paltz, New York. Now, he has been charged with two felony hate crimes.
New York State Police said Andrew Plachecki, 26, placed the gun to the taxi driver's head and called him a "motherfucking piece of Muslim shit" early Sunday morning, the Daily Freeman reported. Plachecki, reportedly intoxicated, pointed the gun during a cab fare dispute with the driver.
The cab driver, who works with Jon's Taxi, called his dispatcher and signaled a state police cruiser. Soon after, New York state troopers found Plachecki at a nearby gas station and arrested him.
On Monday, the Daily Freeman reported that Plachecki received two felony charges: "menacing, displaying a weapon as a hate crime and reckless endangerment as a hate crime." Plachecki, assigned to Ulster County Jail on $25,000 bail, is expected to show up in New Paltz Town Court at 6 p.m. on Tuesday. 
Unfortunately, Sunday's incident is not the first anti-Muslim attack that occured within the new year.  "We've had three anti-Muslim hate crimes reported to us in 2017," Albert Cahn, director of strategic litigation for New York's Council of American Islamic Relations chapter, said.
According to Cahn, CAIR-NY received 59 reported incidents of anti-Muslim hate crimes in 2016. These incidents were reported to the CAIR-NY chapter and not directly to law enforcement agencies. Cahn said there was a considerable spike in anti-Muslim attacks in response to Trump's transition to the White House. 
"We can say that we saw a signficant increase in the period between Trump's election and inauguration," Cahn added.
Cahn warns that numbers of anti-Muslim hate crimes are still severely underreported.
"There are systematic barriers to getting accurate hate crime reports," Cahn said. "We continue to see difficult incidents where hate crimes are not properly reported by the police or prosecutors. There were many incidents when, until we intervened, prosecutors and police would not identify anti-Muslim attacks as hate crimes."
CAIR-NY issued a statement applauding New York State Police for quickly apprehending and placing hate crime charges on Plachecki.
"We're grateful to our law enforcement partners for their quick response to this disturbing attack," Cahn said in the statement. "This is no place for this sort of violence and hatred in New York state."