Chris Brown responds to Aziz Ansari's SNL monologue by calling him "Aladdin"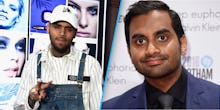 Chris Brown continues to rack up beef. 
The R&B singer, currently scheduled to fight rapper Soulja Boy in a televised boxing match, took some time out of his training to attack comedian Aziz Ansari on Instagram. 
On this weekend's Saturday Night Live, Ansari opened with a monologue comparing Brown and his fans to president Donald Trump and his supporters. Ansari compared Trump supporters who look the other way on some of Trump's worst qualities, like condoning sexual assault, to Brown's fans who listen to his music and forgive him for his past, including assaulting singer Rihanna. 
Brown didn't take the comparison well and shot back at Ansari on Instagram. 
"Fuck no!" Brown wrote in a caption accompanying the post. "Somebody tell Aladdin hop off my dick." Brown also added a laugh-cry emoji to the end of his statement. 
Unfortunately, the comparison is not only overtly racist, but also geographically and ethnically off. Ansari is Indian-American and Aladdin is based off of an Arab folk tale, meaning Ansari's heritage and Brown's reference are some 2,000 miles apart. 
Brown took to Instagram again on Monday to say that he "can't fucking catch a break," and then said he might move out of the country.