'Gotham' season 3, episode 14: What will happen? Spoilers, promo video and more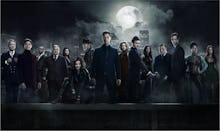 On Monday night, Jerome Valeska (Shameless' Cameron Monaghan) returned to Gotham, alive and well, for the first time since being killed off in season two. In season three, episode 13 of Fox's Batman prequel series, Jerome was resurrected — nobody stays dead on Gotham — and the chaos has only just begun. 
After causing a blackout at the end of Monday night's episode, Jerome will continue terrorizing the city in Gotham's winter finale — yes, winter finale even though the show only returned from its hiatus two episodes ago. Season three, episode 14 of Gotham may be one to remember, though, because if Jerome does indeed become the Joker, we will see him attacking the future Batman: Bruce Wayne. (Who has goosebumps?)
Gotham's winter finale synopsis and promo
Gotham has a so-so track record with their versions of Batman's greatest villains — but if Jerome is indeed the Joker, it is hard to argue that he is not one of the series' better antagonists. So, for fans of the show, it is definitely exciting that we will be seeing more of him this season. Still, Jerome's continued appearance isn't the only thing to look forward to in Gotham's winter finale, titled "The Gentle Art of Making Enemies."
Check out the following synopsis (via Comic Book) of the episode:
With Jerome (guest star Cameron Monaghan) on the loose with one target in mind, Bruce and Alfred's safety is compromised. Meanwhile, Gordon's uncle Frank (guest star James Remar) pays him a visit, and ?Nygma and Penguin are forced to confront their issues face-to-face, with possible deadly consequences.
Watch the promo for "The Gentle Art of Making Enemies" below.
Gotham's winter finale airs Monday, Jan. 30, at 8 p.m. Eastern on Fox.
Mic has ongoing coverage of Gotham. Please follow our main Gotham hub here.