Excuse us while we try to make sense of this story about Kellyanne Conway punching a man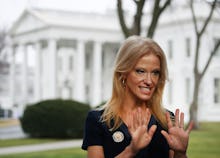 A truly bizarre story made headlines Tuesday morning, involving President Donald Trump's adviser Kellyanne Conway supposedly throwing a few punches at a formal inauguration event. 
According to the New York Daily News, Conway had been trying to break up a fight between two men at Friday night's Liberty Ball when she got caught up in the scuffle herself, punching one of the men in the face "at least three times" when he wouldn't back down. 
Fox Business Network senior correspondent Charles Gasparino corroborated this story in a Facebook post, explaining that he saw two men in tuxedos fighting at the ball when "out of nowhere" Conway intervened, "throwing some mean punches."
Gasparino said the physical altercation lasted no more than a few minutes, and no one was hurt save for "maybe the dude [Conway] smacked."
If the image of Conway, clad in a ball gown with her hands balled up into fists as she clobbers a man in a tux has you questioning your grasp on reality — us too.
Trump spokespeople did not immediately respond to the Daily News' request for comment, but Gasparino assured in his post that he exaggerated nothing.
"Now I know why Trump hired her," he wrote.
Correction: Jan. 24, 2017