What movie has the most Oscar nominations? 'La La Land' ties with two other films.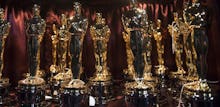 La La Land, Damien Chazelle's musical tale of love and ambition in the City of Angels, received 14 Academy Award nominations on Jan. 24. This number establishes La La Land as one of the three most-nominated films in the history of the Academy, tying with Titanic and All About Eve. 
Record-tying nominations 
La La Land's nominations include best picture, best director for Damien Chazelle, best actor for Ryan Gosling, best actress for Emma Stone, and two nominations in the category of best song for "Audition (The Fools Who Dream)" and "City of Stars." It was also recognized for best original screenplay, best original score, best cinematography, best production design, best costume design, best film editing, best sound editing and best sound mixing. 
Past Oscar nominees 
Titanic won 11 Oscars in 1997, including best picture and best director. The only other film to receive 14 nominations from the Academy Awards was the 1950 show business drama All About Eve, which went on to win six, including best picture. Four of the 14 nominations were for female actors in the film: Bette Davis, Anne Baxter, Celeste Holm and Thelma Ritter. 
Hosted by Jimmy Kimmel, the 2017 Oscars will air at 8:30 p.m. Eastern on Sunday, Feb. 26 on ABC.