Donald Trump signs executive orders on the Dakota Access and Keystone XL pipelines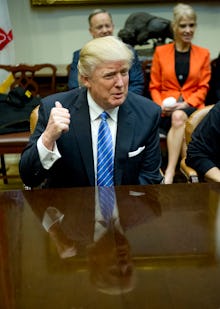 President Donald Trump signed two executive orders Tuesday to expedite the review of the Dakota Access and Keystone XL pipelines, potentially paving the way for construction of the controversial oil pipelines that have drawn fierce protests from environmental and tribal activists.
Press secretary Sean Spicer hinted Monday at a news conference that Trump wanted to move forward with the oil pipelines that former President Barack Obama stalled during his presidency.
"I will tell you that areas like Dakota and the Keystone pipeline, areas that we can increase jobs, increase economic growth and tap into America's energy supply more — that's something that he has been very clear about," Spicer told reporters Monday, Fusion reported.
The executive orders, however, seek a quick review of the pipelines by relevant agencies, such as the Interior Department which oversees the national parks the pipelines could run through, the Army Corps of Engineers and, in the case of the Keystone XL pipeline — which would connect the U.S. to Canada — the Department of State.
In September, Obama halted construction on the Dakota Access pipeline, which thousands of tribal and environmental activists had protested. In December, the Army Corps of Engineers also denied a permit for the pipeline's route, which would run through tribal land in North Dakota. 
Obama rejected the Keystone XL pipeline, saying in November it "would not serve the national interests of the United States."
Jan. 24, 2017, 4:36 p.m.: This story has been updated.