Oscar Nominations 2017: Where to stream nominated movies on Netflix, Amazon and iTunes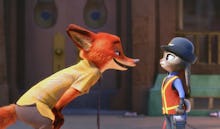 The 2017 Academy Award nominations were announced on Tuesday morning — and so much happened: Viola Davis made history, the Oscars presented its most diverse lineup of acting nominees in a decade and Amy Adams was snubbed. 
If you're looking to get caught up with all the nominees for your office's Oscar pool, we've got you covered. Many of the films that were nominated can be streamed legally from the comfort of your home right now! Read on for where you can watch everything from Zootopia to Florence Foster Jenkins online in preparation for the big day on Feb. 26: 
Where to stream
Hell or High Water earned a best picture nomination and a best supporting actor nomination for Jeff Bridges, and you can watch it now on Amazon and iTunes. Florence Foster Jenkins, which earned Meryl Streep another best actress nomination for her performance, is available on Amazon, in all her wrong-pitch-and-key glory. 
For this year's best animated nominees, spend the weekend inside with Kubo and the Two Strings, which is available on both Amazon and iTunes, and Zootopia, which you can watch on Amazon and iTunes as well. Zootopia can also be streamed on Netflix, along with visual-effects nominee The Jungle Book.
Suicide Squad and Star Trek Beyond, both of which earned nominations for makeup and hairstyling, are available on iTunes and Amazon, so keep on eye out for their flawless contouring. 
Other nominees include Hail, Caesar!, Deepwater Horizon, Sully and Jim, The James Foley Story, all of which are available for purchase or to rent on Amazon or iTunes. Nominee The Lobster is available on Amazon Prime.
The Oscars will be hosted by Jimmy Kimmel at 8:30 p.m. Eastern on Sunday, Feb. 26 on ABC.