Why Donald Trump promised Ford, GM, Chrysler CEOs he will rein in "out of control" environmentalism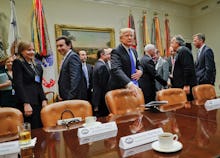 President Donald Trump met with heads of the "big three" automotive companies Tuesday morning — Ford, General Motors and Chrysler — to talk about their plans for job creation during his administration. 
During the meeting, Reuters noted Trump was quick to extend an olive branch to the industry he has often sparred with on social media, promising to reign in "out of control" environmentalism.
Trump didn't specify exactly which regulations he would target, saying only that he wanted to make it easier to open factories. But the president's pick for the Environmental Protection Agency, Scott Pruitt, has said he will "review" current standards for fuel efficiency that were designed to help fight climate change.
Why the song and dance?
There's reason for the awkwardness — and the olive branch — beyond the negative tweets Trump has issued criticizing carmakers for overseas manufacturing.
The three companies are likely to want to tread carefully when it comes to the Trump adminstration plan for America's major trade agreements.
On Monday, Trump signed a memo officially withdrawing the United States from the Trans-Pacific Partnership — and the North American Free Trade Agreement could soon be on the president's chopping block, too. 
On one hand, at least Ford CEO Mark Fields said he is glad about TPP.
"We appreciate the president's courage to walk away from a bad trade deal," he said, according to Reuters. "So I think as an industry, we're excited about working together with the president and his administration on tax policies, on regulation and on trade, to really create a renaissance in American manufacturing."
But generally speaking free trade benefits the auto industry by giving it access to cheaper labor and new markets in which to sell cars. By one count, scrapping NAFTA alone could cost up to 30,000 U.S. automotive jobs.
Perhaps even more disconcerting for the auto industry might be the administration's aggressive stance toward China, which prompted Chinese President Xi Jinping to caution against the dangers of a Sino-U.S. trade war at this year's World Economic Forum. 
While the link between China and U.S. automotive jobs might not be immediately clear, America's companies sell a ton of cars in China.
In fact, GM actually sells more cars to Chinese people than it does to Americans.
In other words, car companies need functioning global trade (not trade wars) to do business.
And as you can see in the below graphic from the Wall Street Journal, Mexico accounts for a major source of the auto industry's production growth — so much so that CEOs are reportedly consulting with Trump's book, The Art of the Deal, to better understand the new president. 
Here's hoping — for their sake and the sake of their workers and investors — they picked up a few good tips. 
It's been less than 10 years since the industry had to be rescued by a government bailout, one both Trump and Vice President Mike Pence have previously implied they did not support. 
A spokeswoman for the White House did not immediately respond to Mic's request for comment.
A representative for Ford declined to comment; representatives for General Motors did not immediately respond to a request for comment; representatives for Fiat Chrysler said they would share a statement, and Mic will update this post when we hear back.
Sign up for The Payoff — your weekly crash course on how to live your best financial life.