Donald Trump's Executive Orders: Latest updates on Trump's first week as president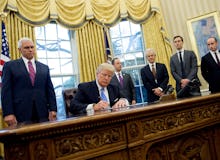 When he hasn't been doubling down on false claims of voter fraud, President Donald Trump has been signing executive orders. 
Here's what the president has done through the power of the pen so far:
Attacked women's health care
On Monday, Trump reinstated the Reagan administration's "Mexico City Policy," which blocks federal funds from nongovernment organizations that provide abortion services or support abortion as a reproductive choice.
Trump restored the "global gag rule," which was revoked by the Obama administration in 2009, the day after the anniversary of Roe v. Wade. No women were present as Trump signed the order.
Withdrew from the Trans-Pacific Partnership
Trump has long opposed the Trans-Pacific Partnership, an ambitious 12-nation proposed trade agreement signed by former President Barack Obama in 2016. On Monday, Trump formally withdrew from the TPP, apparently dooming the deal. Pulling out of the agreement, which had not been passed by Congress, seems to signal a pivot toward the isolationism and protectionism that characterized Trump's fiery inauguration speech.
Froze fedeal hiring
Despite staunch opposition from federal labor leaders, on Monday Trump signed an executive order to freeze government hiring – a measure that, as he wrote in his "Contract with the American Voter," would help "clean up the corruption and special interest collusion in Washington, D.C."
But according to Tony Reardon, president of the National Treasury Employees Union, a freeze would be "harmful and counterproductive."
"Our government depends upon highly trained and experienced federal workers being able to carry on with their important work," Reardon told the Washington Post. "This puts up a substantial roadblock for agencies."
According to the Washington Post, the Government Accountability Office in 1982 found that hiring freezes have "little effect on Federal employment levels" and "disrupted agency operations, and in some cases, increased costs to the Government."
Dealt another blow to Obamacare
The Republican-led Congress seems poised to repeal the Affordable Care Act, though their plan to replace it remains unclear. 
In an executive order signed on Friday, the day he was inaugurated, Trump instructed federal agencies to "waive, defer, grant ­exemptions from or delay" any part the ACA that imposes a financial or regulatory burden on those affected by it, the Washington Post reported. 
What exactly that means for the ACA is foggy, according to the Washington Post, but Robert Laszewski, president of the consulting firm Health Policy and Strategy Associates, told the paper that Trump's order was a "bomb" lobbed into the fragile insurance market – a "signal that it's going to be a disorderly transition."
What could be coming next?
In addition to the major orders he signed, Trump has also signed official nominating papers for his cabinet picks and declared his inauguration day a national day of patriotism. 
On Tuesday, he was expected to sign orders pushing forward the controversial Dakota Access and Keystone XL pipelines, which have been staunchly opposed by environmental and tribal activists. 
Trump is also expected to take executive action on immigration and Obama administration climate change regulations.