'Sims 4' Vampires Release Time: When does the expansion pack come out?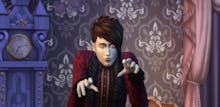 Sims 4 Vampires, the latest expansion to the popular game, is set to launch on Jan. 24. But what time does Sims 4 Vampires come out? We don't know for sure, but based on previous releases we may have a pretty good idea of what to expect.
Update: It's out!
Sims 4 Vampires Release Time: Our best guess
According to a discussion on the Sims forum, these expansion packs typically launch at 1 p.m. Eastern time (that's 10 a.m. Pacific and 6 p.m. GMT). If that's the case, Sims 4 Vampires should be ready to go by early afternoon in New York.
However, some Sims 4 players have pointed out that releasing a vampire-themed pack in the middle of the day doesn't exactly fit with the new subject matter. It would make a lot more sense to launch the expansion at night, in which case we may have to wait a little longer for the release time to arrive.
Sims 4 Vampires Release Time: What to expect
Sims 4 Vampires brings a ton of new content to the game. The key feature of the expansion is turning your Sims into vampires. After that, you'll have to keep them out of direct sunlight and make sure they have a steady supply of "Plasma" to stay alive.
The expansion also includes new character customizations and a world called Forgotten Hollow. 
Check out the full trailer for Sims 4 Vampires below while you wait for its release.
Jan. 24, 2017, 1:41 p.m.:  This story has been updated.
More video game news and updates
To find out what else is happening in the world of gaming, check out our coverage of Super Mario Run's Android release, genders in Pokémon Go, the next League of Legends patch and how to play Injustice 2 early.