Texas lawmaker wants to lock up women who've had abortions to teach them "responsibility"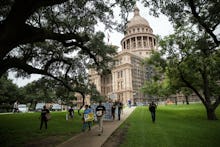 Given the recent spate of anti-abortion bills passing through state legislatures, the word "draconian" has been rendered almost meaningless. But there's no better way to describe a new piece of Texas legislation that could put women in jail if they have an abortion.
Texas state Rep. Tony Tinderholt filed the Abolition of Abortion in Texas Act earlier this month, taking the firm stance that such punitive measures are necessary to teach women responsibility. 
"Right now, it's real easy," Tinderholt explained to the Texas Observer. "Right now, they don't make it important to be personally responsible because they know that they have a backup of 'oh, I can just go get an abortion.'"
Ah, yes, everyone's preferred form of birth control: undergoing a costly and often difficult-to-access procedure earning lifelong stigma in the eyes of people like Tinderholt. In Texas, someone looking to terminate a pregnancy would have to first receive counseling actively discouraging them from abortion, receive an ultrasound, wait 24 hours and then travel to one of just 19 abortion clinics in the state, most of which are concentrated in its eastern half.
Easy, breezy, beautiful, right?
Tinderholt's bill would, of course, implement a total ban on abortion, even in the cases of rape, incest or fetal abnormalities. Under the proposed law, those who provide and receive abortions would face criminal charges as serious as murder.
"That is so ignorant to think ... that women are somehow irresponsibly deciding that they're going to go ahead and get pregnant because it's so easy to get an abortion," state Rep. Donna Howard told the Observer. "... It's just baffling to me that he could have that lack of compassion and understanding for fellow Texans."
Howard said the bill made it clear that Tinderholt "has no clue what's going on" with regard to how women view their reproductive choices.
Indeed, Tinderholt's proposed legislation certainly endorses a view that women aren't capable of making smart, informed decisions about their own bodies. For that, the bill suggests, they must be punished.
If it sounds unconstitutional, that's because it is. According to the Observer, the bill instructs state officials to ignore "any conflicting federal" laws, like, say, Roe v. Wade, which makes what Tinderholt proposes patently illegal. 
But legislation like Tinderholt's is often filed with with the hope that it will play a role in weakening the 1973 Supreme Court ruling until it's eventually overturned completely. 
In the meantime, the Abolition of Abortion in Texas Act will face more than its fair share of challenges, most recently from Howard and Texas state Sen. Sylvia Garcia, who plan to file a resolution on Tuesday contesting the act and asserting that "abortion is healthcare and should be treated as such," according to the Observer.